The Chinese mainland and Taiwan will further deepen cultural and economic cooperation during the upcoming Cross-Straits (Xiamen) Cultural Industries Fair, government official said.
The fair, which will open on Friday and last until Oct 28 in Xiamen, Fujian province, will help to promote the cultural industry, a pillar sector that is playing an increasingly important role in local economic growth.
As a platform for communications in culture and business across the Straits, the annual event will promote prosperity in the creative industry on both sides as well as enhance Chinese culture on the international stage, according to the local government.
Around 830 cultural companies and organizations from Taiwan will attend the event to find opportunities for cooperation with their mainland counterparts, organizers said.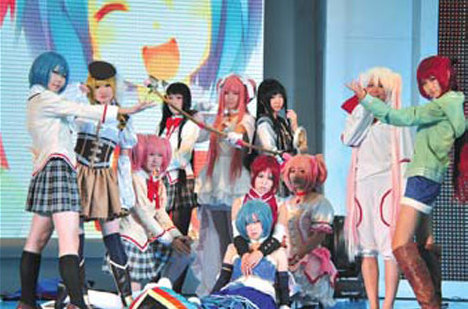 Members of a cosplay group present themselves during an animation festival, part of the cultural fair.
"This year's event has expanded its size enormously compared to previous sessions," local official said. "It is the largest in its history."
The fair to be held at the Xiamen's International Conference and Exhibition Center will provide a total of 4,800 booths in a 95,000-square-meter exhibition area.
It is divided into two large sections. The first one will focus on presenting major achievements of Fujian and Taiwan's culture industries, while the other will consist of a series of professional exhibition areas, including the divisions for animation and online gaming, digital content and new media, fine art, intangible culture heritage, and museum exhibition.
In the 8,000-square-meter fine art area, more than 100 Taiwan companies will display excellent handicrafts from Asian artists.
The Digital Content and New Media Area will serve as a platform for promoting exchanges and cooperation with enterprises like China Telecom, China Mobile and China Unicom from Chinese mainland and Chungwa Telecom, Taiwan Mobile and Far EasTone from Taiwan.
"The fine art and the digital areas are our highlights this year," local official said. "They make us stand out from other cultural fairs in the country."
The proximity of Xiamen to Taiwan as well as its business-friendly environment explains how the coastal mainland city is able to attract so many business opportunities from the island, according to the city government. Around 2,000 meters away from Taiwan's Jinmen Island, Xiamen is considered the bridgehead of cross-Straits exchanges.
The Xiamen government has adopted a full range of policies to integrate its coastal economics with Taiwan.
For instance, it has provided tax favors to Taiwan companies and built the Mainland-Taiwan Trade Center to strengthen cooperation between the two sides.
"Our event draws more Taiwancompanies and organizations than any other cultural fairs on Chinese mainland," government officials said.
In addition, the Fujian provincial government has carried out an aid plan since last year, which focuses on selecting the best cultural enterprises, parks and projects as samples in the industry and giving them priority support.
The plan not only enables other companies to learn from the best ones, but also brings the local cultural industry into a more professional level, the government officials said.
Fujian's cultural industry has continued to grow enormously in the past few years, allowing for the fair to become one of the biggest cultural events nationwide.
Revenues generated by the Fujian culture industry soared from 16 billion yuan ($2.67 billion) in 2005 to 100 billion yuan in 2012, an average annual increase of 29.5 percent.
And in the first two quarters of this year, its revenue increased 20.4 percent year-on-year to 48.4 billion yuan.
Its foreign trade in cultural products was $19.53 billion dollar in 2012, ranking fourth on the Chinese mainland provincial economies.
Oil paintings, ceramics, resin and other art pieces are its major exports, which contributed 94 percent of the total foreign trade volume in the first half year of 2013.
The fair, specifically, plays a vital role in developing Fujian's cultural industry by promoting cooperation between mainland and Taiwan, local officials said. Contracts signed during the past five fairs amounted to 100.5 billion yuan, according to the local government.
Other than the cultural industry fair, the ninth Cross-Straits Book Fair, the sixth Xiamen International Animation Festival, also known as Cyber Sousa Award, the 10th Cross-Straits Folk Art Festival, and the Xiamen (China) International Sporting Goods Fair will be held during the same period of time.
"We have invited scholars and performers from both mainland and Taiwan," local officials said. "A variety of conferences, exhibitions, contests and performances will also be staged."