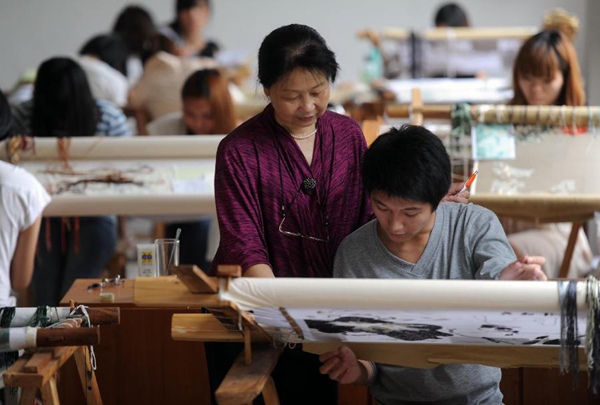 Students practice embroidery. [File photo]
It is not common in China to see a young man doing embroidery.
But Jiang Tongwan, in his 20s, owns a workshop in Hunan province. He is one of the first 11 male vocational school graduates major in Hunan style embroidery.
"Many people did't understand my choice," he said. "I would then tell them that Hunan embroidery is part of our traditional culture which we should pass on."
Chinese embroidery boasts a long history of several thousand years. Xiang Xiu, or Hunan embroidery, is one of the four major styles. It features light and shading that give the picture a three-dimensional effect.
The industry peaked in the 1970s and 1980s but began dwindling after an embroidery plant in Changsha, which employed about 30,000 craftsmen, closed down. The revenue of the plant was more than one million yuan (about 152,200 U.S. dollars).
"The craftsmen worked at home," recalled Zeng Yingming, general manager of the Hunan Embroidery City Group. "Almost every household had someone doing embroidery."
The situation changed in the 1990s, when many plants, including the one in Changsha, closed.
"There were many causes for the depression," said He Chun, an expert in cultural industry. "Fake products, obsolete designs and high prices were the main cause, which resulted from lack of intellectual property awareness and shortage of talents."