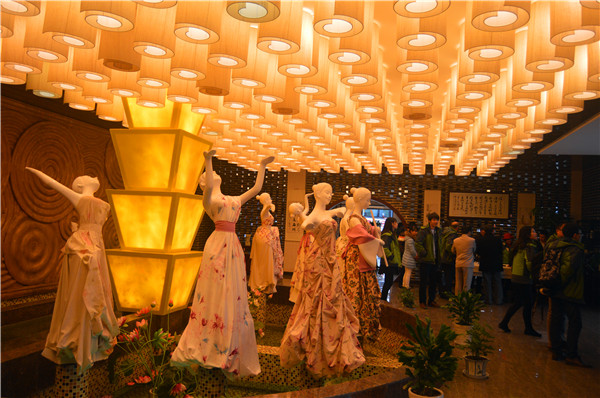 Journalists on a media tour, themed on China's Belt and Road Initiative and Chinese high-speed rail, visit a Xia embroidery workshop in Xinyu city, East China's Jiangxi province, Dec 24, 2015. [Photo by Liu Xuanyi/chinadaily.com.cn]
Xia embroidery, the fifth renowned embroidery in China besides Suzhou embroidery, Hunan embroidery, Sichuan embroidery and Yue embroidery, is distinguished by its strong artistic and visual effect on viewers.
The biggest difference between Xia embroidery and the four famous Chinese embroideries lies in its raw material.
Xia embroidery uses traditional hand-woven grass cloth made from ramie fiber, which is unique for its simplicity, good air permeability, antibacterial ability and durability.
Like chinaware and tea, Xia embroidery was one of the major exports from Jiangxi province to the outside world through the ancient Silk Road and Maritime Silk Road.
However, due to the Industrial Revolution in the world's textile and clothing industries, man-made ramie cloth textiles were under huge pressure and traditional handicrafts for Xia embroidery almost vanished.
In recent years, as it became devoted to technological innovation and new products development, the Jiangxi grass cloth industry gradually took the road to the revitalization of the traditional Xia embroidery.
The development of Xia embroidery craftsmanship greatly improved the grass cloth's cultural value and economic value.
In 2014, China's first museum of Xia embroidery opened in Xinyu city, which is known as the birthplace of grass cloth.
Xinyu city also plans to construct a Xia embroidery industrial base that integrates production, display, talent training, sightseeing and entertainment.