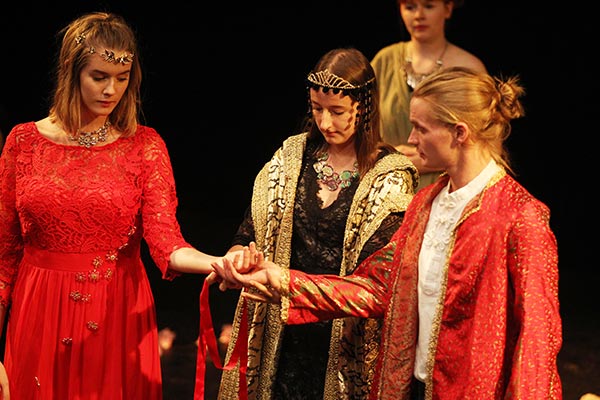 The play A Midsummer Night's Dreaming Under the Southern Bough features young students from China and the United Kingdom, most of whom are not theater majors. [Photo by Zhu Xingxin/China Daily]
Its run ended in Fuzhou, Jiangxi province, Tang's birthplace, on Sunday, as part of a series of events commemorating Shakespeare and Tang.
When Li initiated the idea of the production, it was considered "daydreaming" and "unachievable". But she went ahead and chose students who are not theater majors.
"The most interesting part of the project is to have young people without theater knowledge learn and perform works of Shakespeare and Tang," says Li.
One of the most challenging parts was to shorten Tang's Record of the Southern Bough, a 22-hour, 44-scene work, which is about a drunken man's journey in his dream.
Adam Strickson, one of the co-adapters of Tang's Record of the Southern Bough, says: "It's the longest play I've ever read. We had to find what matters to the audience.
"So, while retaining the differences, we look for what we have in common, such as where we go in life and the value of living in today's society as an individual."