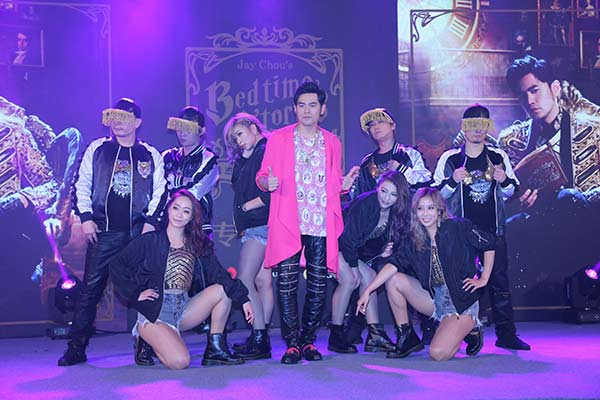 Jay Chou (center) at a Beijing event to promote his latest Mandarin album, Jay Chou's Bedtime Stories. Photos provided to China Daily
Mandarin pop's big star shows his fans a different side of his music. Chen Nan reports.
It's chaos. A doorman has his hand on the handle of a closed door behind which people are waiting anxiously. The crowds outside stare at the door hoping to get a glimpse of what is happening inside.
As the music gets louder, people, both inside and outside the room, start screaming.
This is what happens when Mandarin pop's big star Jay Chou makes an appearance.
On July 11, the Taiwan singer-songwriter was at a five-star hotel in Beijing to release Jay Chou's Bedtime Stories, his 14th Mandarin album, and to mark his 15th year in show business.
Over that time, with his mixed style of R& B, love ballads and rap, which often saw him include classical music and traditional Chinese instruments in his work, Chou has revolutionized the music business in ways not even he could have foreseen, and he has heavily influenced a generation of musicians.
With Jay Chou's Bedtime Stories, the 37-year-old shows a different side of his music, which is humorous.
"I've written a lot of sophisticated stuff in the past, but now I rarely write such songs or songs dealing with heavy issues," says Chou.
He says he owes this change to his daughter, Hathaway.