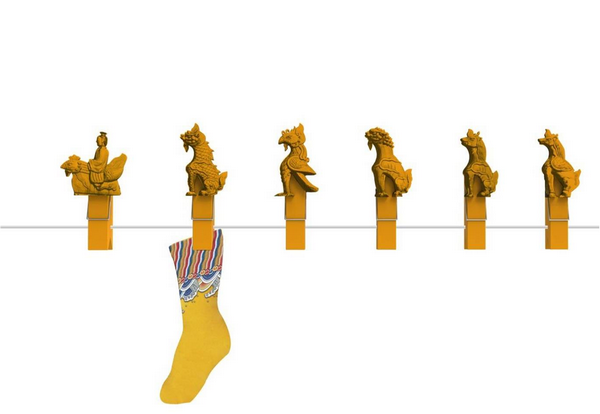 The museum has cultivated a variety of souvenirs, including clips and socks.[Photo provided to China Daily]
Following in the footsteps of Palace Museum's successful sale of souvenirs, other museums get into the business with the help of new guidelines.
Hopefully it will soon be easier for visitors to China to take the country's "national treasures" home with them. This is because the production of more cultural souvenirs by Chinese museums is to be encouraged, according to the country's Ministry of Culture.
The announcement, which was made at a press conference last week at the Palace Museum, also known as the Forbidden City, is in line with a State Council directive, which was issued earlier this month in a bid to promote more creativity among cultural heritage institutions.
It is hoped that the guideline will boost the use of new technical approaches and improve design and marketing to improve museums' interactions with the public.
"A major hurdle now is that public museums cannot autonomously allocate income earned from their sales of souvenirs because they are defined as public institutions," says Wu Jiangbo, director of the cultural industry department of the Ministry of Culture.
"However (with the latest announcement), they (the museums) will now be allowed to use income generated from the sales to enhance their public service, boost collections, create better souvenirs and even offer bonuses to designers," says Wu.
The development of such souvenirs could also become part of the museum evaluation system, he says.
The new move is undergoing trials at national and provincial museums before being expanded nationwide.