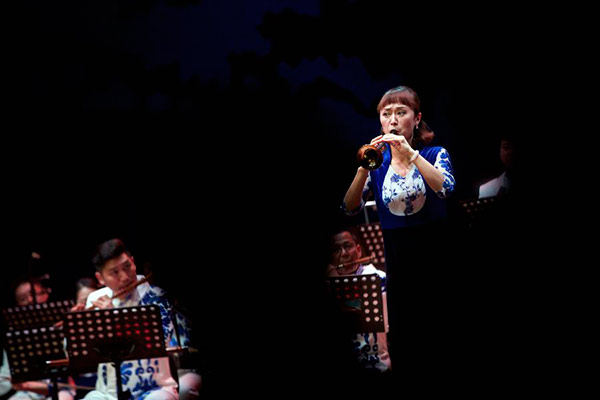 The Guangdong National Orchestra stages a concert for the Spring Festival celebrations in Rome. [Photo/Xinhua]
The local Chinese community held a two-day street festival in the Italian capital over the weekend to mark the upcoming Spring Festival, or the Chinese Lunar New Year, which falls on Feb 8 this year.
Set up outside the Rome Auditorium, a complex dedicated to cultural events, the festival drew a large crowd of Italians and Chinese from across the country.
Children were attracted to the Shaolin martial arts demonstration, with their eyes glued to performers doing standard kung fu exercises with a variety of weapons.
"Shaolin kung fu works deeply on both your body and soul," says 43-year-old performer Simona from Rome.
The woman, who gave only her first name, says that she has been practicing kung fu for a long time, and her school has performed regularly during celebrations for the Chinese New Year in Rome.
"This discipline helped me sort out my values and priorities in terms of quality of life," she says.
On Saturday evening, the Guangdong National Orchestra staged a concert in the Sinopoli hall of the auditorium, followed by a fireworks display.
During the day, various stands offered people a glimpse of Chinese arts and traditions, such as calligraphy, shadow puppetry, woodprinted New Year pictures and Shehuo ladle masks.
The celebrations, which mark the start of the Year of the Monkey according to the Chinese zodiac, also offer China an opportunity to promote its culture to Italians.