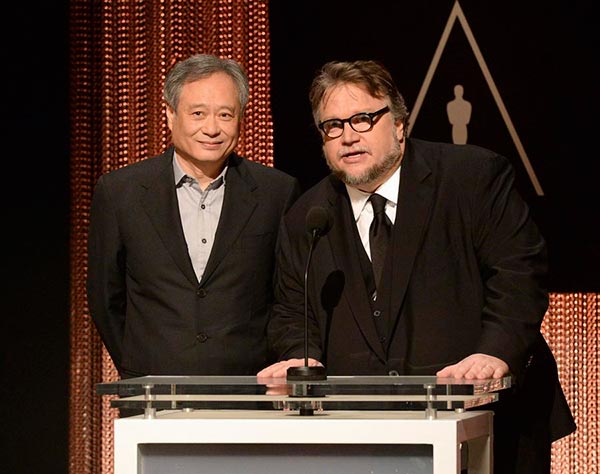 Directors Ang Lee (left) and Guillermo Del Toro speak during the nominations announcements for the 88th Academy Awards in Beverly Hills, California January 14, 2016. [Photo/Agencies]
Actors vying for the golden statuette for supporting roles include
Christian Bale
(
The Big Short
), Tom Hardy (
The Revenant
), Mark Ruffalo (
Spotlight
), Mark Rylance (
Bridge of Spies
) and Sylvester Stallone (
Creed
). Stallone, who received his first Acting nomination in 1976 for
Rocky
, is the sixth person nominated for playing the same role in two different films.
Films nominated for best animated feature include writer/director Charlie Kaufman's downbeat stop motion drama Anomalisa, Boy and the World, Disney's Inside Out, Shaun the Sheep Movie and When Marnie Was There.
Foreign films selected to compete for Oscar gold are Colombia's Embrace of the Serpent, France's Mustang, Hungary's Son of Saul, Jordan's Theeb and A War from Denmark.
The box office tent pole Star War: The Force Awakens, the highest grossing film of all time in North America, received five nominations -- for film editing, original score, sound editing, sound mixing and visual effects.
Another record breaker this year is Steven Spielberg, who produced and directed Bridge of Spies. The film's nomination for best picture is Spielberg's ninth in that category, the most for any individual producer.
The nominations were announced by directors Ang Lee and Guillermo del Toro, actor John Krasinski, and Cheryl Boone Isaacs, president of AMPAS.
The Oscars will be presented at the Dolby Theatre in Hollywood on Feb 28. Chris Rock, the Oscar host in 2005, will host the event for the second time this year.
Related:
New Academy Awards posters and promos released