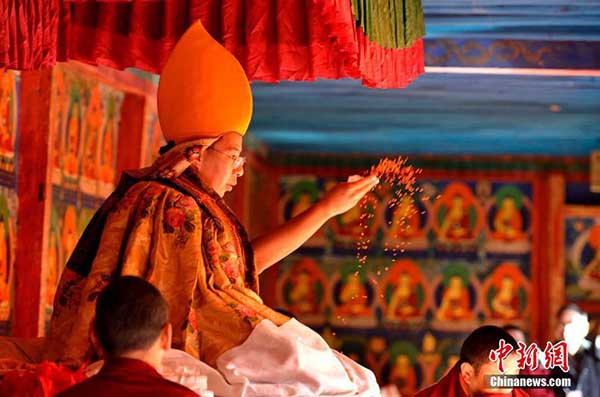 The 20th anniversary of the enthronement of 11th Panchan Lama,Bainqen Erdini Qoigyijabu, is celebrated at the Tashilhunpo Monastery in the city of Xigatze, Southwest China's Tibet autonomous region, Dec 8, 2015. [Photo/Chinanews.com]
Tibet on Tuesday commemorated the 20th anniversary of the enthronement of the 11th Panchen Lama Bainqen Erdini Qoigyijabu, a spiritual leader of Tibetan Buddhism.
Zhaxi Lhunbo Lamasery, the Panchen Lama's residence in the city of Xigaze, basked in glory Tuesday morning as more than 1,500 Tibetan Buddhists and local people attended a ceremony that went on for more than three hours.
The Panchen Lama arrived in the monastery, 270 kilometers from the regional capital Lhasa, at 10 am with attendant monks holding a yellow parasol over for him and blowing trumpets.
The Panchen Lama is the highest-ranking lama after the Dalai Lama in the Gelug school of Tibetan Buddhism, the most influential school among the four main schools.
The Panchen Lama recalled some of his experiences and thanked the government and senior monks for their help and care.
He called for Tibetan Buddhists to act with compassion and promote Buddhism that adapts to the times.
Gifts were presented by representatives from lamaseries, ranging from symbolic items like Buddha figurines, sutras and the holy pagoda to silk and satin.
The ceremony featured a heated debate between two high monks, a traditional royal dance by 7 young monks and a sutra chanting praying for peace and prosperity.
"The ceremony is not only a celebration of the Gelug school and the Zhaxi Lhunbo Lamasery, but also for the whole of Tibetan Buddhism," said Palden Donyo, a senior monk of the Sakya school.
Officials from the United Front Work Department of the Communist Party of China (CPC) Central Committee, State Administration for Religious Affairs and the Tibet regional government took part in the ceremony.
Sita, vice minister of the United Front Work Department of the CPC Central Committee, praised the Panchen Lama's achievements and hoped he would carry on the legacy of his predecessors and actively engage in incorporating Tibetan Buddhism into socialist society under the Buddhist principles of equality and compassion among all beings.
Gyaincain Norbu, born on February 13, 1990 in Lhari county, Nagqu prefecture in northern Tibet, was enthroned as the 11th Panchen Lama on Dec 8, 1995 after a traditional lot drawing ceremony in Jokhang Temple in Lhasa.
The Panchen Lama currently serves as vice president of the Buddhist Association of China and a member of the Standing Committee of the Chinese People's Political Consultative Conference National Committee, the country's top political advisory body.