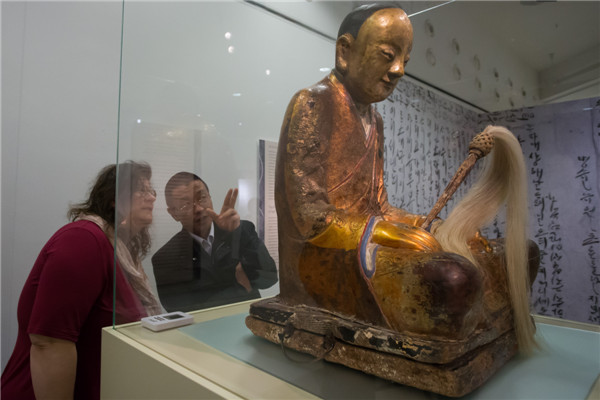 The Buddha statue on display at the Hungarian Natural History Museum in Budapest in March. [Photo/Xinhua]
A 1000-year-old Buddha statue with a mummified monk inside, now in possession of Dutch private collector Oscar van Overeem, triggered a series of disputes in the past eight months between the collector and villagers of Yangchun in Southeastern China's Fujian province who claim that the statue was the one of Patriarch Zhanggong which was stolen in 1995 from the Puzhao Temple in their village.
Recently, Oscar van Overeem contacted journalists at Xinhua News Agency stressing that he can scientifically prove the statue is not the one from Yangchun village and introduced three conditions on returning the statue to China.
The collector told Chinese journalists that he agreed to return the statue to China but demanded to return it to a grand temple instead of a small temple in a village. The Chinese government agreed to help him do research on something irrelevant to the statue but has failed to deliver on its promise. The Chinese side refuses to overcompensate for his loss on the statue.
"I've suggested adding the statue to a series of Chinese collections. In that case, if someone buys them for China, no one knows the single price of the statue. However, they refused to do so," Oscar van Overeem said.