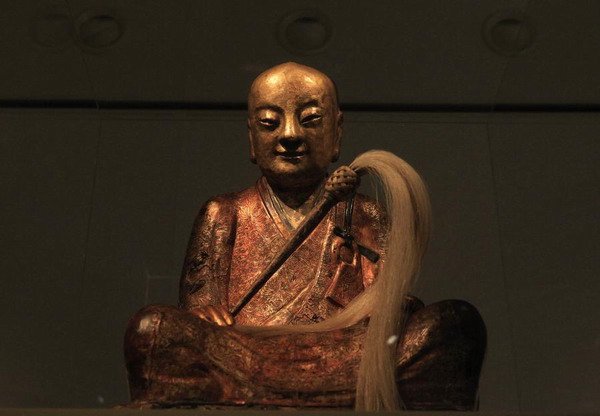 A Buddha statue is displayed at the Natural History Museum in Budapest March 4, 2015.[Photo/Agencies]
The fading banner hanging across the gate posts of Puzhao Temple reads "We hope that the statue of Patriach Zhanggong will come home soon."
The statue, which contains the body of a Buddhist monk and is the heartof Yangchun village in Southern China's Fujian province, remains abroad, as worldwide attention that called for it to be returned by a Dutch collector faded just like the banner.
"The Dutch collector said he would return the statue of Patriach Zhanggong this April, and we have been expecting this for the past several months," Lin Jianfei, a Yangchun village teacher, said. "Yet what we have learned now is that the Dutch collector, who told the media several months ago that he would return the statue, now turns out to be rather reluctant to do so and is making all kinds of excuses, which shocks me. I feel angry."
In March, the Buddhist statue, was part of the Mummy World exhibition at the Hungarian Natural History Museum. The statue was proved to be the one that was stolen from Fujian province's Yangchun village in 1995.
According to a New York Times report, Oscar van Overeem is a Dutch architect, and he acquired the statue in dispute in 1996 from a collector in Amsterdam who had acquired it in Hong Kong. Not long after the report, the collector said on his LinkedIn page that he had reached a tentative agreement to donate the mummy to "a major Buddhist temple" near Yangchun village in the southeastern province of Fujian, where the statue was likely to be the personification of Patriach Zhanggong. But as time went by, he changed his mind.