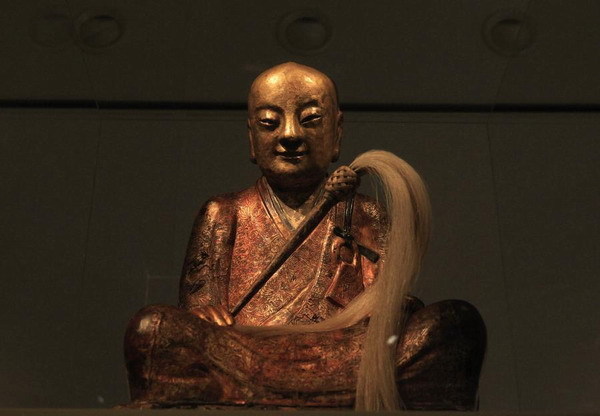 The Buddha statue is displayed at the Natural History Museum in Budapest, Hungary, March 4, 2015. [Photo/Agencies]
After eight months of patient, indirect and difficult contact with the Dutch collector, the villagers of Yangchun in south-east China's Fujian province failed to get back the mummy Buddha statue of Patriarch Zhanggong which was stolen in 1995 from the Puzhao Temple in their village. Now the villagers have hired a group of lawyers in hope of recovering the statue they claim belongs to them.
"I feel deep regret that there hasn't been any substantial progress in the return of the statue, I understand this is the circumstantial choice, although this process will be tough, and probably last for a long, unpredictable time. But I think, under these circumstances, the Chinese side still hasn't given up the possibility of consultation with the collector, we still place high hopes on a win-win solution to the disputes concerning the Buddha statue," Li Zhen, the overseas liaison officer in Hungary of Yangchun village for the Buddha statue issue told China Daily website.
"I still prefer consultation with respect to returning the Buddha statue to China. I call for dialogue and further negotiation to reach an out-of-court settlement", Li said.
Li also stated that he has to stand for the villagers and would provide assistance if they uphold the legal steps.
"I think there are many misunderstandings among the two sides. I was shocked when I read a certain Chinese press report saying that the Dutch collector's offer is 20 million USD. The Chinese Administration never disclosed any details of their contact with Mr. Oscar van Overeem to a third party, so this information was not from authoritative sources. I really don't know how that person in the village got such wrong data and how a Chinese newspaper quoted such eye-catching news on its online edition."
In fact, this is not the first time that the Chinese media delivered incorrect information. As early as March, Chinese press reported, "the Dutch private collector is willing to return the relic to China, if the statue is proven to be stolen from China".
Is it true? No. Because both the Chinese Administration and the civil channels have proven time and time again that the statue is the stolen one, but he has still yet to return it.