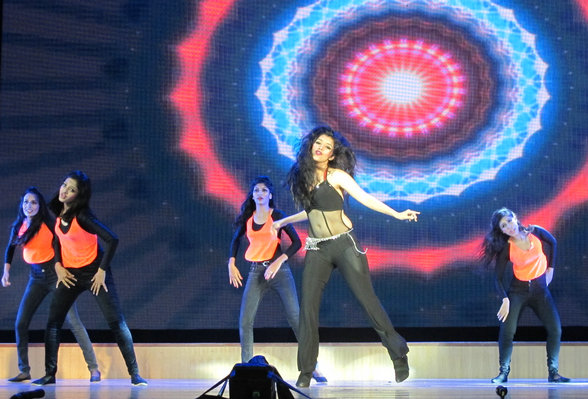 Indian dancers perform at the opening performance Music and Dance Show of Thindu India in Xi'an, Sep 7. [Photo by Wen Yi/Chinaculture.org]
The second Silk Road International Arts Festival is in full swing in Xi'an, capital of Northwest China's Shaanxi province.
With the participation of 30 countries and regions along the "One Belt, One Road", as well as 7 provinces and regions in China, the festival consists of 80 performances of 40 domestic and foreign plays, 5 exhibitions of paintings, calligraphy, sculptures, intangible cultural heritages and photography, 6 cultural forums about the Silk Road, special events including International Creative Comics and Animation Week, International Children's Play Week, International Modern and Contemporary Dance Week and Shaanxi-Hong Kong Music Exchange 2015.
The festival's opening ceremony was launched on Sep 7, attended by China's Minister of Culture Luo Shugang, Tunisia's Minister of culture Latifa Lakhdar and envoys from 20 countries such as Singapore, Thailand and South Korea.
According to Luo, jointly hosted by the Chinese Ministry of Culture and the Shaanxi Provincial People's Government, this international cultural exchange event serves as an important program in the implementation of the "One Belt, One Road" strategy. It features a platform for deepening cultural exchanges and cooperation between China and countries along the "One Belt, One Road", as well as promoting mutual development.