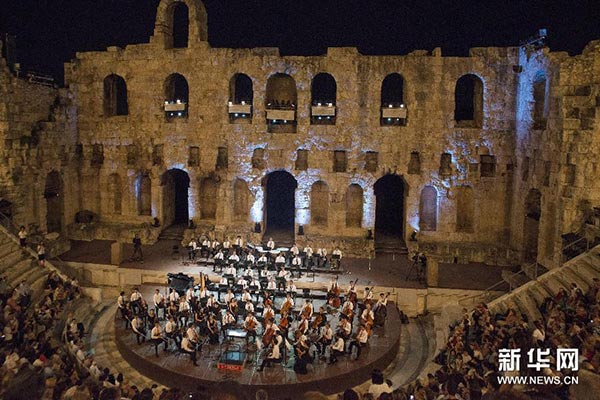 The last performance of the 2015 Silk Road Tour by the China Philharmonic Orchestra in Odeon of Herodes Atticus, Athens, Greece, on the evening of Aug 19. [Photo/Xinhua]
The China Philharmonic Orchestra held a concert in Odeon of Herodes Atticus as the last leg of its 2015 Silk Road Concert Tour held in Athens, capital of Greece, Aug 19, drawing to a successful close of the 18-day and six-country concert tour.
Performances included Alexander Borodin's "Polovtsian Dances" from the opera "Prince Igor", Antonin Dvorak's "New World" Symphony and He Zhanhao and Chen Gang's "Butterfly Lovers' Violin Concerto", or in Chinese, Liangzhu, which combines gracefully elements of Chinese folk tales, Chinese Shaoxing opera, and Western classic music.
Chinese ambassador to Greece Zou Xiaoli gave an address before the concert, highlighting Sino-Greek cooperation in the spirit of the Silk Road.
Greek Deputy Foreign Minister Ioannis Amanatidis as well as an audience of thousands watched the performance.