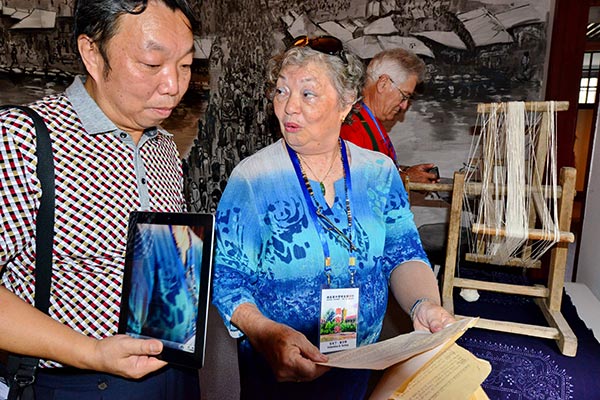 Valentine Soltay, a former detainee at the Weihsien camp, attends the ceremony on Monday. [Ju Chuanjian / China Daily]
The Last Race
, the unofficial sequel to the cinema classic, Chariots of Fire, has completed shooting and is set for worldwide release in March, according to director Stephen Shin.
Shin confirmed that shooting had been completed at a ceremony for the film that also marked the 70th anniversary for the liberation of the Weihsien (old name for Weifang) Concentration Camp in Weifang, Shandong province, on Monday.
Co-directed by Canadian filmmaker Michael Parker, the film focuses on the friendship between Chinese man Xu Niu played by Dou Xiao and a Scottish runner Eric Liddell played by British actor Joseph Fiennes.
The film focuses on how they both suffered at the hands of the Japanese occupiers during World War II and helped the detainees at the Weihsien camp.
"Chinese films have seldom touched the theme of the friendship between China and other countries, so when I got the story about the friendship between a Chinese man and a Scot, I thought it is of great significance to make it into a film," Shin says.
After the Japanese attack on Pearl Harbor in December 1941, the Japanese established many camps worldwide to intern citizens of Allied countries. Weihsien camp was the largest. The camp housed more than 2,000 people, 327 of them children, from more than 30 countries.