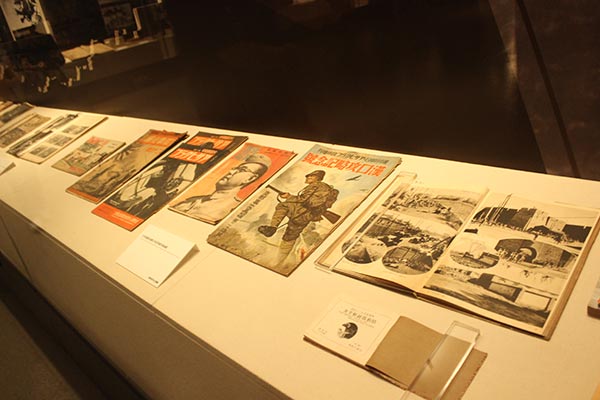 The Immortal Great Wall exhibition at National Library of China displays 1,500 text and video files from the War of Resistance against Japanese Aggression (1937-45). [Wang Kaihao / For China Daily]
Away from the guns and bullets on the battlefields of World War II, China also courageously fought invaders using words and ideas.
On Aug 14, the day before the 70th anniversary marking Japan's surrender to the Allies, a major exhibition kicked off in Beijing's National Museum of Classic Books, which is affiliated to National Library of China. The show looks at the efforts made by China's literati to safeguard their homeland.
The Immortal Great Wall displays 1,500 pieces of text and video files recorded during the war. It is the library's biggest exhibition of documents on the War of Resistance against Japanese Aggression (1937-45) since the founding of New China in 1949.
Wartime diaries, manuscripts, newspapers, photos, books and short films allow visitors to experience the war from both sides.
Many Japanese bulletins, brochures and books recording the war have been collected by the library in the recent years as evidence of the atrocities committed by Japanese troops. Many of these documents are being shown to the public for the first time.
The time period covered by the exhibition expands beyond the eight years the war raged. Files on regional wars in Northeast China from 1931 and in Shanghai in 1932, are also focuses. The earliest exhibit dates back to 1928. It is a written document warning of Japan's ambition to conquer China. The text refers to an incident that same year, when Japan massacred thousands of people in Jinan, capital of Shandong province, in an attempt to influence the Chinese revolution.
One of the highlights of the exhibition is the cache of historical files recording Chinese efforts to save precious ancient books, preventing them from falling into enemies' hands or being destroyed.
"The hidden struggle against cultural plunder is just as important as the fight on the battlefields," says Chen Li, deputy director of NLC.
Many of the collections in NLC (then called National Peiping Library) were transported to Hunan and Yunnan provinces, dodging gunfire. Some were even shipped to the United States.
One of the most important ancient book collections in today's NLC, Zhaocheng Jin Tripitaka, a 12th century Buddhist canon, was secretly transported and hidden by Chinese troops in an abandoned coal mine to keep it out of Japanese hands.
However, some national written treasures did not survive the war.