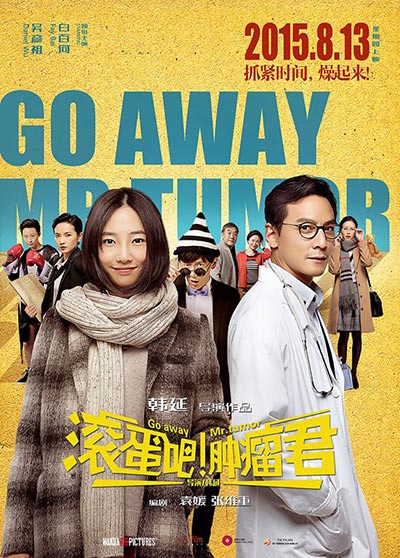 Poster of "Go Away Mr. Tumor". [Photo/Mtime.com]
Chinese film "Go Away Mr. Tumor" has come up top at China's box office, grossing nearly 20 million yuan ($3.12 million). 
The film, starring actor Daniel Wu and actress Bai Baihe, features the final years of a cartoonist and her fight against a malignant tumor until she loses the battle at the age of 30.
Its advanced screening surpassed live-action fantasy movie "Monster Hunt" and became the top-grossing premiere at the domestic box office.
Record-breaking film "Monster Hunt" has dropped to second place. Its total ticket sales has accumulated over 2.2 billion yuan in 32 days since its release.
Romantic comedies "Cities in Love" and "Bride Wars", targeted at the market for Qixi, or Chinese Valentine's Day on Aug 20, will hit the big screens across China this week.
Related:
Sylvia Chang to lead New Currents jury at Busan Film Fest