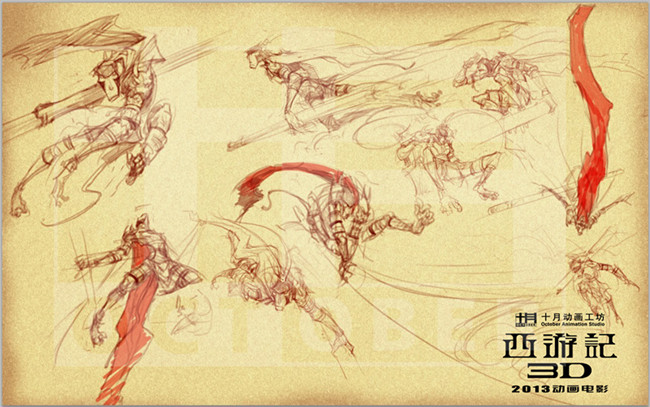 A draft of the monkey king in Tian's movie. [Photo provided to chinadaily.com.cn]
However, in Tian's movie, everything changed. The monkey king wears a long face, which is different from the character's traditional images, and became a man in mid-life crisis. Jiang Liuer, the monk, turned into be an eight-year-old child with innumerable questions.
"Well, there are so many movies, operas and animations of the monkey king in China. But to me, they are not heartfelt enough. So my team and I decided to create our monkey king. In our understanding, the monkey king is wild and intractable, but not that fearless and all-powerful. We added more characteristics of the common people to him. More directly, our monkey king is an experienced man, a knight-errant in ancient China with distinct charm and defects," Tian explained.
"Meanwhile, it is a story of a hero to redeem himself. In that case, everyone has a lot in common with the monkey king. In society, reality constrains our ideals and aspirations day by day. We feel lost, frustrated or even terrified sometimes, especially after a big setback at the autumn in our life. Frankly speaking, in the process of making such a movie, we regain our ideals in the past as well," he added.
Although some Chinese audiences were not satisfied with the image of the monkey king, they were deeply touched by the story. Some of them even went back to the cinema to watch the movie three or more times. It also set a record for Chinese domestic animation with overseas sales at €20 million ($22.2 million) during the 2015 Cannes International Film Festival.
In the face of such a success, Tian remained pretty calm, and stressed that his team is far from successful.
"Frankly speaking, there are so many problems in the movie, especially technical details. It would be better if I worked harder. So I felt quite ashamed when audiences praised our work. Meanwhile, if you tell me that it means the rise of the domestic animation industry, I'm sure the evaluation is too high."
"To me, the box office result is an encouragement rather than success. In the past, when it comes to domestically produced animations, people either feel they're just made for children, or don't have good quality. Now, more people are beginning to change their minds. Instead of playing the peacock, we should keep a cool mind and with gratitude, make better movies for our audience," he said.