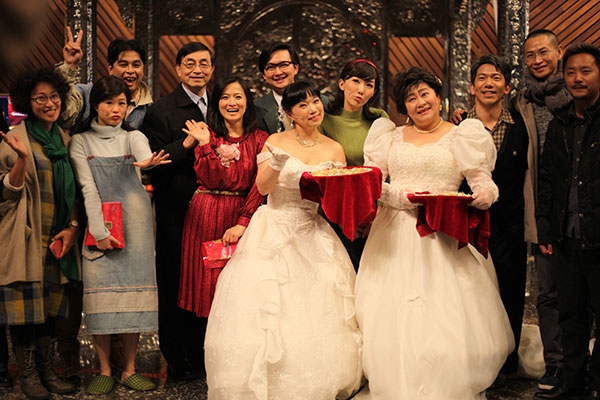 The Wedding, presented by Taiwan Open Theater Group, will be staged in Beijing. [Photo provided to China Daily]
The Wedding, a comedy drama presented by Taiwan-based Open Theater Group, has returned to Beijing, after its successful first round of performances in the capital earlier this year.
Adapted from Japanese playwright Sugako Hashida's play by the same name, The Wedding revolves around Xu Jinhua, a single mother who raises four daughters all by herself from the 1980s.
Everything seems fine until she turns 59. Her children have been hiding things from her such as the pregnancy of the youngest daughter. Life for the family then becomes messy.
Chu Hung-chang, who directs the play, says he first read the script in 2005, and it made him laugh and cry. He then discussed it with Chang Dan-wei, the theater group's artistic director.
"I thought the script was a good one for Open Theater Group to practice because most of the actors were female. But soon we agreed that it deserved to be enjoyed by more audiences in Taiwan," says Chu. He is best known for working with award-winning director Ang Lee as the acting director for Lee's espionage thriller Lust, Caution (2007).
Since The Wedding premiered in 2012, it has toured Taiwan, finding critical acclaim and commercial success.
"The play is very special to me. I don't have children in real life and this role makes up for my regrets," says Chang, a veteran theater actress, who plays the central role in The Wedding.
The 41-year-old has been with the group since 2002.