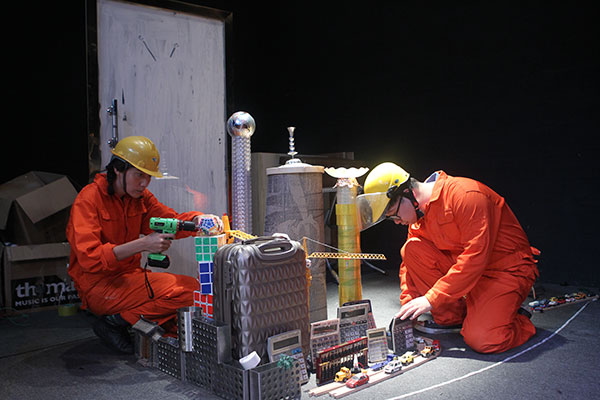 Made in China, featuring French actress Dorothee Saysombat and Chinese actor Wu Mengyu, is an object theater play about lives of Beijing people. [Photo by Zou Hong/China Daily]
A French theater artist with ties to China seeks to introduce a niche art form here, Chen Nan reports.
Fake money, toy cars, a trash can, shabby furniture and other objects are scattered on an empty stage while two people in orange jumpsuits and yellow safety hats work on models of buildings.
The place resembles a construction site, but in reality, it is where French stage actress Dorothee Saysombat and her colleague are rehearsing for a play. Made in China is a 60-minute show that tells the story of two construction workers, three businessmen and a farmer, all of whom reside in Beijing.
Accompanied by a live musical performance, the play is object theater, a niche art form with its origins in 1980s France, and Saysombat, as one of its practitioners, is seeking to bring to China.
"With objects from everyday lives, we try to create a new form of theater, which deals with the relationship between actors and objects as well as builds up intimacy with audiences," says Saysombat, 35, who was born in Paris and is now based in Angers, France.
"We hope this new play form will give Chinese audiences a different perspective on theater."
In 2003, Saysombat founded her theater company, Compagnie A, along with classmate Nicolas Alline from School le Samovar in Paris. So far, they have done five object theater shows.
Back in the '80s, object theater was played at Theater de Cuisine, Le Velo Theater and Le Theater Manarf, three of France's major live houses.
Today, while it is still a minority taste, it is showing signs of some popularity in France, she says.