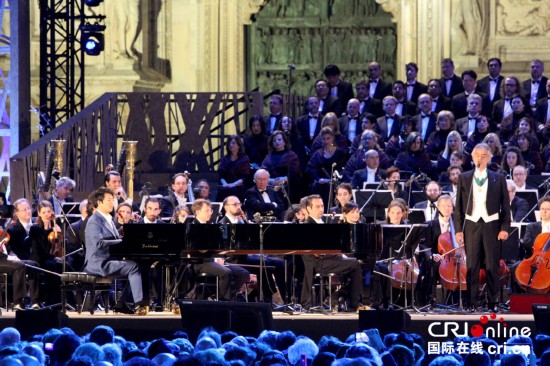 Lang Lang gives a cooperative performance with Italian tenor Andrea Bocelli at a concert before the official opening of the Milan Expo.[Photo/CRI]
Chinese pianist Lang Lang is now pulling double-duty at this year's World Expo in Milan, Italy, acting as both ambassador of the Expo itself, as well as the China Pavilion.
Lang Lang is familiar with the ambassadorial role for the Expo, as this isn't his first time. He explains how he was chosen.
"I was the ambassador for Shanghai Expo in 2010 and participated in lots of interesting activities. Last year I gave a performance in Milan Cathedral and appealed to the audience to support Expo. After the concert, the mayor of Milan came backstage and said he'd like to recommend me to be the ambassador for Milan Expo. I had been the ambassador for Shanghai Expo and thought it would be nice to do it again. It's like I'm in a TV series, with the set moving from Shanghai to Milan."
Five years ago at the inaugural concert for Shanghai Expo, Lang Lang played a tune named New Shanghai Concerto, and this time, he was also invited to perform at a concert before the official opening of the Milan Expo with well-known Italian tenor Andrea Bocelli. Hostess of the concert Antonella Clerici introduced Lang Lang with high praise.
"He is just over thirty, yet is recognized globally as one of the most talented pianists around today. He discovered his passion for piano at age of two, when he was drawn by Liszt's Hungarian Rhapsody No. 2 in a Tom and Jerry cartoon episode. At age of five he began to play in public. He was praised as 'the world's ambassador of the keyboard' by The New Yorker magazine. Let me present you, Lang Lang!"
Lang Lang performed five music pieces at the concert, including three classic pieces with Bocelli and two solos. Lang Lang also played a piece of Chinese music—Overture of the Spring Festival, the traditional tune to celebrate China's lunar new year.
"I proposed this Chinese piece because I believe it could be understood by people from different countries, whether they know Chinese or not."
Just as Lang Lang says, music is a language without borders, and the Expo is a grand meeting.
Lang Lang will take part in a series of activities at Expo, including those for China Pavilion, as he's also an ambassador for the Pavilion.
"It's a very lucky thing for me and I'll definitely cherish it and do my best. When the China Day comes on June 8, I'll hold activities on cultural exchange, and maybe invite some younger Chinese musicians to join me."
Five years ago on the China Day of Shanghai Expo, Lang Lang performed a Chinese tune, My Motherland, and he may bring some Chinese tunes to Milan on the China Day on Monday, too. What's more, Shanghai is also going to hold a Shanghai Week from June 9 (Tuesday) to June 13 (Sunday) at the Expo.