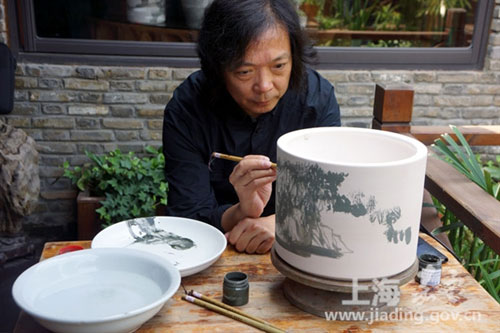 Wang Jiafang paints porcelains. [Photo/jiading.gov.cn]
In order to show the glamor of Chinese paintings and ceramics, Shanghai will exhibit more than 80 porcelains at the 2015 Expo Milano in Italy this June.
The Guqin Kiln Ceramics Art Center in Jiading district is responsible for preparing the exhibitions. More than 20 local artists were invited to create water paintings and calligraphy on the porcelains.
"I hope the exhibition will not only show the skills of Chinese artists, but also make foreigners learn about Guqin Kiln in Jiading," said Wang Jiafang, a painter from Jiading.
Not only the paintings and calligraphy that represent the traditional Chinese culture, but also the shape of the carefully-selected porcelains, said Tao Guixiang, the curator of Guqin Art Gallery. The exhibitions will include brush pots, gall-shaped vases, prunus vases and vessels featuring classic shapes, Tao added.
The Guqin Kiln Ceramics Art Center will finish baking the porcelains by the end of May and then deliver them to Milan in June. Some of the works will be auctioned for charity following the exhibition.