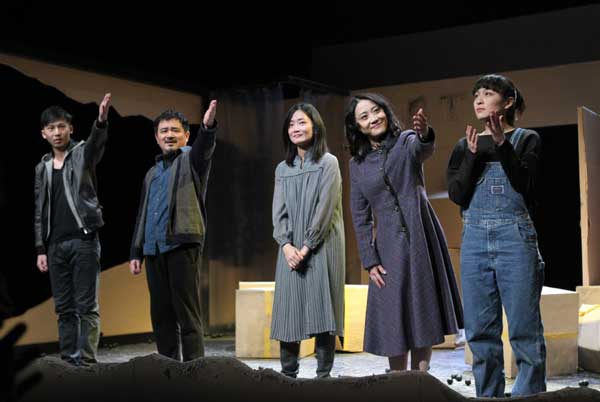 The cast of The Woman Before takes a curtain call. Zou Hong / China Daily
"You swore that you'd love me forever. Now I've come to hold you to that promise," says a woman who turns up on the doorstep of a married man's home. She was the man's lover 24 years ago, and he couldn't even recognize her.
That's the first scene from German playwright Roland Schimmelpfennig's work, The Woman Before, which premiered in Vienna in 2004. The scene instantly hooked Chinese drama director and scriptwriter Zhang Nan.
The woman wants to claim possession of the man, but she fails. She realizes that she has to destroy everything about the man's marriage of 20 years in order to rebuild a bond of love with him. Then there comes memories, arguments, hysteria and death.
"What happens when someone insists on love above everything? Is the love that you have always believed in real? Do you feel scared when somebody from the past pops up and confronts you with things you might have said long ago?" Those questions lingered in Zhang's mind for a long time.
Having been dedicated to introducing contemporary Western drama works to Chinese audiences by translating scripts as well as directing during the past 10 years, Zhang knew that The Woman Before should be brought to China and she wanted to pose those questions to the Chinese audience.
"In the story, love is doubted and becomes vulnerable, which is a situation that exists in contemporary Chinese society. The emotion is mutual, though the language is different," says Zhang, a soft-spoken woman in her mid-30s.
Along with her husband, Zhao Han, she translated the script into Chinese. From Jan 14 to 18, the Chinese version of The Woman Before, directed by Hang Cheng, was staged in Beijing, and a national tour will follow in the coming month.
In the Chinese version, Zhang translated the title of the drama as Jiu Ai, literally meaning "old love". So when Hang first saw the title, he thought the drama was a typical urban love story.
"But soon I realized that the development of the story was totally beyond my expectation. Love was displayed through a unique perspective, which made me imagine many things and even shivering," says Hang. "I feel thrilled to present such a script to the Chinese audience."