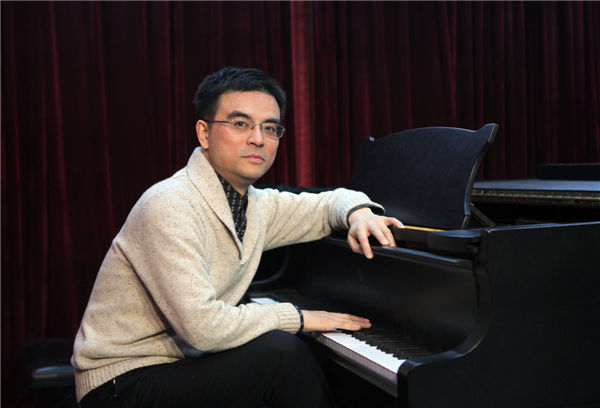 Pianist and composer Gao Ping combines East and West by infusing traditional Chinese art forms into his works. Zou Hong/China Daily
Nearly 30 years ago, when pianist Gao Ping studied at the Sichuan Conservatory in Chengdu, capital of Sichuan province, he was often attracted by the sounds from the Sichuan Opera School, which was located nearby.
"I could hear the folk instruments of Sichuan opera, like gongs and drums, as well as the high-pitched singing, through the window when I practiced works of Beethoven and Mozart at the conservatory," recalls Gao, 44.
The memory lingered in his mind and unconsciously influenced Gao, who worked and studied in the United States and New Zealand from 1990 until two years ago.
Now, the pianist and composer has returned to China, as a professor teaching composition at the China Conservatory and Music College of Capital Normal University in Beijing.
He recognizes that the clash of Sichuan opera and classical music has left a deep mark on him, and his biggest musical interest is to fuse piano with other art forms.
"One of my dreams is to mix piano with Sichuan opera. But I am still working on it. I want to find the most proper way to put the two different arts together," Gao says.
Gao is no stranger to fusion in musical fields. In a recent afternoon, Gao held a concert along with Chinese contemporary poet Zhai Yongming. While Zhai read her poems, Gao played his compositional works and gave improvisational performances.
"The sound of piano makes an interesting counterpoint to the language of poetry," he says.
"When you play different melodies to the poems, the music gives the words different meaning and feeling. It works the other way around, too," Gao says.
Last summer, he worked with Wu Na, a player of guqin (a traditional plucked seven-string Chinese musical instrument), which inspired him to try playing the piano like playing guqin.