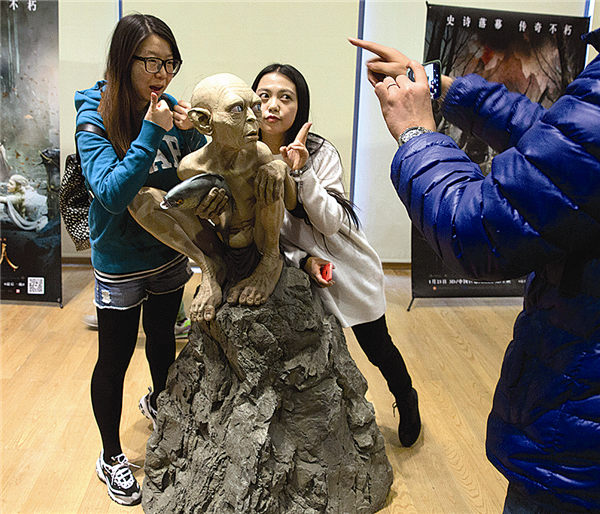 Fans of the finale of The Hobbit trilogy titled The Battle of the Five Armies pose with a sculpture of a character from the movie. [Photo/Agencies]
Though complaining to his home-grown media outlets that the decade-long work of shooting the same-theme movies has been a "nightmare" of constant deadlines, the Oscar-winner for best director and scriptwriter seems more relaxed in his Beijing tour.
"It's not a normal job. You can't go home at 6 o'clock. But it becomes part of life. You can't switch it on, or switch it off. (Movie-making) is a lifestyle. I really enjoy doing that," he explains, sitting cross-legged during the one-hour interview while nearly 200 Chinese journalists sat off stage.
Some entertainment tabloids have concluded in a teasing way that the must-asked questions for Western stars include "Where do you want to go?" "What's your favorite Chinese food?" and "Who is your most adorable Chinese actor or actress?"
Though Jackson has not shunned such questions-and named the "very pretty" Fan Bingbing as his favorite actress, he moves easily beyond cliches.
With an enamel-made cup in hand, the symbolic stuff that every Chinese has used in daily life since the 1970s and 1980s, the director made a tangible connection with the Chinese audience.