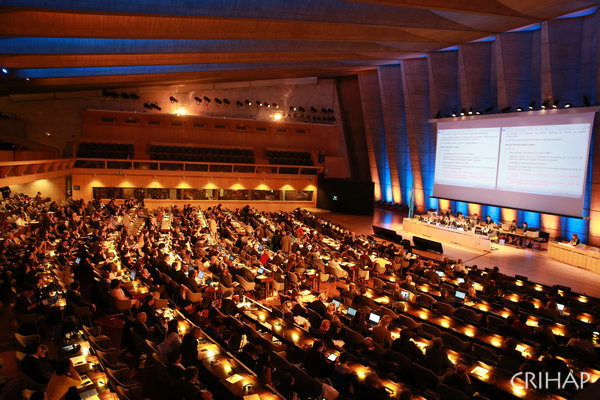 UNESCO cultural committee members meet in Paris. [Photo/CRIHAP]
Thirty-four entries were added to the World Intangible Cultural Heritage List at the ninth session of the Intergovernmental Committee held at UNESCO headquarters in Paris.
The five-day session assembled delegations and scholars from 161 states. The committee is composed of 24 states, with Peru as president. Among 46 nominations, the committee deliberated and inscribed 34 cultural entries on the World Heritage List, including the Korean folk song Arirang, Indian traditional copper crafts and Japanese handmade paper crafts. Tribal dance in western Kenya and other two cultural entries were inscribed on the List of World Heritage in Danger. The Torch Festival of the Yi ethnic group failed to be included on the list this year.
At the session, the China Folklore Society won the bid to be UNESCO's accrediting agency for the next three years as a representative of NGO. Xu Rong, director of the International Training Center for Intangible Cultural Heritage in the Asia-Pacific Region under the auspices of UNESCO (CRIHAP), an institution based in Beijing, presented the preparation for the government-sponsored ICH protection program in the Asia-Pacific Region, and exchanged ideas about the 2015 annual meeting of the Category 2 centers with the UNESCO secretariat.
The tenth session of the Intergovernmental Committee for the Safeguarding of Intangible Cultural Heritage will be held in the Republic of Namibia from Nov 30 – Dec 4.