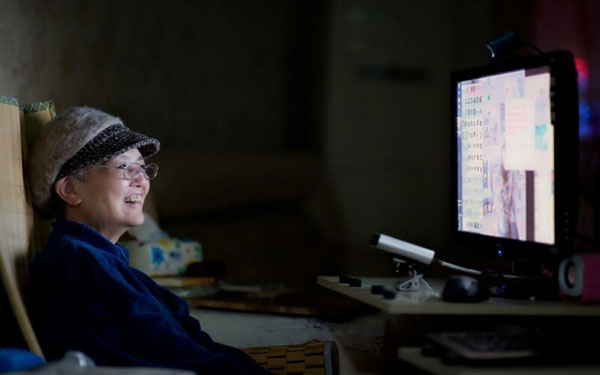 Gong Xunhui, an ALS patient, has written Beautiful Frozen, her autobiography, and decided to donate all the earnings from the book to buy respirators for other ALS patients. [Photo/China Daily]
"I am an ALS patient, and I can only move my head. I type with my eyes - six characters per minute. In the past 10 months, I wrote an autobiography, and I would like to publish it. I want to use the earnings to buy respirators for other ALS patients who cannot afford it and are waiting for death. Could you help me to realize my dream?"
Posted on Dec 11, this is the first micro blog of 61-year-old Gong Xunhui, who has amyotrophic lateral sclerosis and lives in Chengdu, Sichuan province. The post immediately got lots of attention, and as of Dec 30, it had been posted by more than 15,000 people.
On the micro-blog platform, Gong gave herself the nickname "Eye Writer Gong Xun Hui", since the disease has deprived her of mobility in most parts of her body.
Commonly known as Lou Gehrig's disease, ALS is a rare and incurable neurological disorder which gradually causes muscle weakness and atrophy throughout the body.
Gong was diagnosed with ALS 12 years ago, and she has been in a wheelchair since 2006.
In September 2012, Gong's family bought her an eye-tracking assistive device, through which she could use her eyes to control a computer - and communicate with others.
"I am very happy today, and after I get better at typing with my eyes, I will probably write an autobiography." This was the first line Gong typed after her assistive device was installed.
After nearly a year and a half, Gong started the work. However, it was not easy. Gong spent most of every day in front of the computer, writing from 8 am to 11 pm. She could write at most 3,000 characters a day.