When asked about "Sinology" and "Chinese values", people will immediately think of Confucianism and rapid economic growth, yet the answer is so much more than that. The Symposium on China Studies 2014 has answered it all well.
The three-day Symposium on China studies 2014 was held in Beijing at the end of October. More than 30 Sinologists and scholars from 18 countries gathered to share their understanding, ideas and love of Chinese culture.
"A China dream, a humanity dream"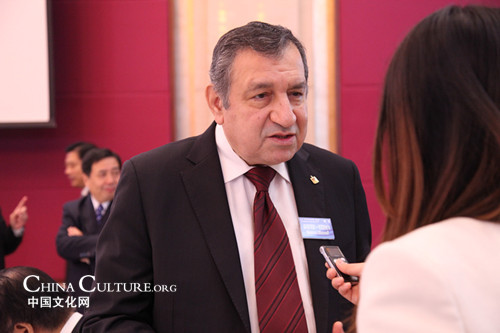 Essam Sharaf, former prime minister of Egypt, gives an interview to China Daily[photo by Liu Fang/Chinaculture.org]
"China dream is not just for China, but for the whole of humanity, in a way," Essam Sharaf, former prime minister of Egypt stressed in the symposium.
This was the third time that Sharaf visited China; it was almost 10 years ago when he first came to Beijing. He was so much impressed by the economic and technological advancement that this country has achieved in recent years, but what has attracted him the most is what lies behind those tall buildings and modern infrastructure: Chinese culture and Chinese values.
As a former leader of Egypt and engineer, Sharaf analyzed the current global situation from an engineering perspective.
"We are always seeking a point of equilibrium, which is very important in engineering work. But when we turn our eyes to the world, we see a disordered and chaotic one that hasn't found a proper point of equilibrium yet," he said.
Mr Sharaf stated that we need a new world system that is culture-based and humanity-oriented. In order to find and keep that equilibrium for the world, nations with ancient historic civilizations and vivid dreams of culture are the key.
"The world is suffering now from what they call 'hostile globalization'. We need a forgiving globalization. So nobody can actually lead that unless you have a deep history of civilization on humanity and harmony. And that makes China qualified to take the lead, "he said when interviewed by Chinaculture.org.
Sharaf used the term "new humanism", a word actively advocated by UNESCO, to indicate his expectation for a future world where people are highly valued and live in accord while putting aside differences. This exactly echoes the concept of the China dream expounded by many scholars in the symposium, including Shen Zhuanghai, head of the Research Institution of Humanities and Social Scienceat Wuhan University.
Shen addressed the China Dream as a revival of a universal society and great harmony. Chinese people worshipped the ideal of an inclusive and equal society since ancient times. Dating back to the Western Han Dynasty (206BC-AD24), ancient Chinese sages demonstrated their social ideals in the Book of Rites that advocated a peaceful, harmonious and common world, a fair home to everyone.
"Civilization, prosperity, harmony, democracy, equality, freedom, justice and legality, etc….the pursuit of these ideals is consistent and persistent during different chapters of Chinese history," Shen said. The China dream represents the core values in Chinese culture and unrelenting desire of the Chinese people for a better life.
Moreover, the China dream is also about openness and respect to the outside world. Shen emphasized this point by quoting Chinese President Xi's previous speech, indicating that China modestly learns from other countries for their achievements in civilization.
These core values of the China dream, in the Sharaf's eyes, are precious treasures needed in the building of a new world, a better one for all people.
"The China dream is playing an essential role in the realization of 'world dream'," Mr. Sharaf said. "We need this type of culture and values, not for the sake of our countries, but for the world."