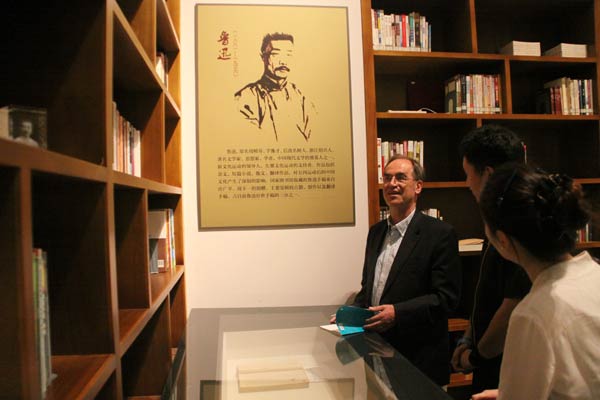 In the National Museum of Classic Books, Wilt Idema examines Lu Xun's manuscripts. Provided to China Daily
A Dutch Sinologist has spent more than 50 years studying the country's language, classic literature.
For Wilt Idema, books are the best guides in life.
As a child, the vivid descriptions of China in Nobel and Pulitzer Prize-winner Pearl S. Buck's books sparked Idema's interest in the country. He later read classic Chinese literature and spent whole days pouring through works at the National Library of China.
The 70-year-old Dutch Sinologist recalled his half-century-long romance with Chinese culture during a recent visit to Beijing. Idema was the only Sinologist invited this year to participate in the Oriental Culture Research Program, an annual project hosted by the China International Culture Association.
Idema has served as the director of the Chinese Languages and Cultures Department at Leiden University of the Netherlands and was also director of Harvard's Fairbank Center for East Asian Research.
He has studied ancient Chinese plays, novels and literature, and has authored or translated a number of influential books published in English and other languages.
Idema began learning Mandarin during middle school, because he wanted to learn a language that "has a long history yet is still active today".