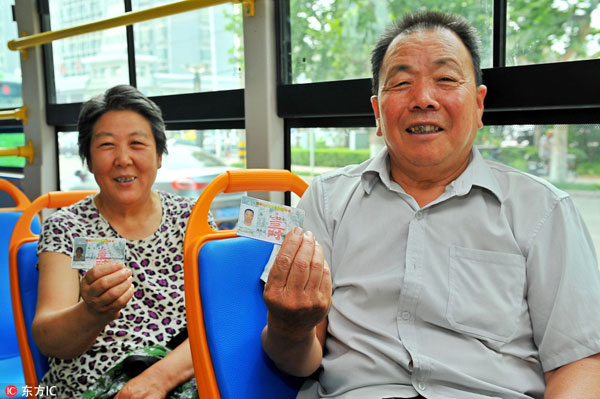 Two seniors show their elder transportation card on a bus in Qingzhou, East China's Shandong province on July 1, 2014.[Photo/IC]
Seniors aged 70 or above can take taxis for free for the first 3 kilometers of a ride since Aug 15 in Kunming, capital of Southwest China's Yunnan province, yunnan.cn reported.
The move aims to solve some difficulties in seniors' daily life, such as getting on buses during peak hour, transporting luggage and inability to use the internet to book taxis.
Some 300 taxis are now part of the pilot project, said Huang Yanjun, president of Kunming Taxi Association.
He said that all taxis in Kunming, which number over 7,000, are expected to be included in the project before Double Ninth Festival, which falls on Oct 9 this year.
China has taken many measures to provide elderly people with preferential treatment.
In 1996, China launched the Law on Protection of Rights and Interests of Seniors, the first of its kind to guarantee seniors privileges in medical, transportation and sightseeing tours among other aspects in daily life.
Almost all regions across China actively implement the law by issuing specific regulations. For transportation alone, many places offer free transportation for seniors.
For example, in Beijing, seniors aged 65 or older can take buses for free if they hold a transportation card for elderly or handicapped people.
The free rides attract many elderly people to buses and make buses unable to carry all the people who want to ride them, especially at peak hours. This difficulty roused a heated debate over whether the free policy is a good idea.
Earlier this year, Shanghai offered a new solution to the problem.
Since June 25, seniors in Shanghai have to pay a transportation fee, but they are provided with a transportation allowance by the Shanghai government.
Every Shanghai senior can get a monthly allowance since May 1, with 150 yuan ($22.6) for people aged between 70 and 79 and 180 yuan for people aged between 80 and 89.
The seniors who receive the allowance can use the money to purchase a "Baotong Card", a transportation card including transportation insurance. The card, which came into use since July 1, costs 150 yuan for people aged between 70 and 79 and 139 yuan for people aged between 80 and 89. The allowance can well cover the expense of the "Baotong Card".
Swiping the card, seniors can take buses and subways, excluding expressway line, airport express, tourism line, magnetic levitation train line, at off-peak times without paying extra money.
Shanghai's elderly passengers expressed different views on the new policy, according to Xinmin Evening News.
Some believed purchasing the "Baotong Card" is a good deal as it contains insurance, while some others thought the use of the card is too limited as it cannot be used on the expressway line, airport express, tourism line, or magnetic levitation train line.
Though controversial, the implementation of the new policy has eased the stress on public transport.
On the first day of stopping the free rides, Shanghai Morning Post reported that elderly passengers dropped sharply at 80 percent during peak times on bus No 48 and No 49 during an investigation.