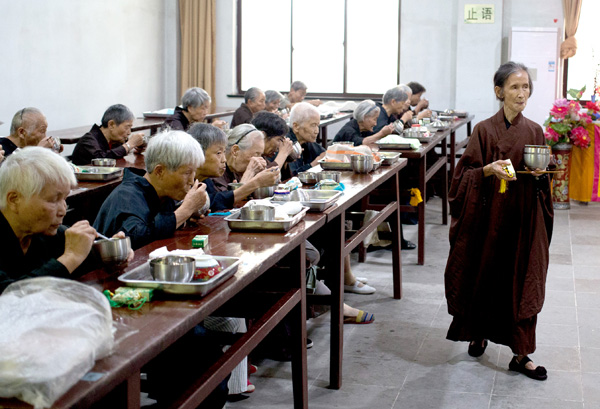 Seniors eat lunch in the dining room at the Lingyanshan Buddhist Nursing Home.[Photo by Gao Erqiang/China Daily] 
Editor's note: This is the second in a series of reports China Daily will publish looking at the lives of elderly people, the problems they face and the ongoing efforts to improve their standard of living. More stories will be published in the weeks to come.
At first glance, the large building at the foot of Lingyan Mountain in the southwest of Suzhou, Jiangsu province, resembles an upscale holiday resort.
Yet the chants that play in a continuous loop indicate that this is no ordinary retreat. It is a nursing home, whose 60 residents are all Buddhists with an average age of 80.
Situated on a large area of land that includes a bamboo forest, a pond and a small orchard that supplies the residents' food, the home opened in 2012 below the 1,700-year-old Lingyanshan Temple, a Buddhist foundation that sits high on the mountain.
During the "cultural revolution" (1966-76), the land was designated as a State farm, and Master Mingxue, the temple's current abbot, who was manager of the monastery in the years before 1966, became a farmer for a decade alongside a number of other monks.
"Buddhism is never isolated from society," said the 93-year-old, who is also president of the advisory committee of the Buddhist Association of China. "As China's population ages, we're doing our part to deal with this social challenge by providing a place for Buddhist seniors."
By the end of last year, China was home to 222 million people aged 60 and older, and according to Chen Zongrong, deputy director of the State Administration for Religious Affairs, 474 - or 1 percent - of the country's more than 40,000 nursing homes are run by religious institutions, so there is great potential for growth.
Master Guanyun, director of the office of the Buddhist Association of Suzhou, said the home is not a new phenomenon because Buddhist temples have traditionally always provided care for a small number of elderly lay believers and, sometimes, relatives of the monks.
"I believe many more temples are doing this, but they keep low profiles," he said, adding that temples in Taiwan and Japan have greater experience of the practice.