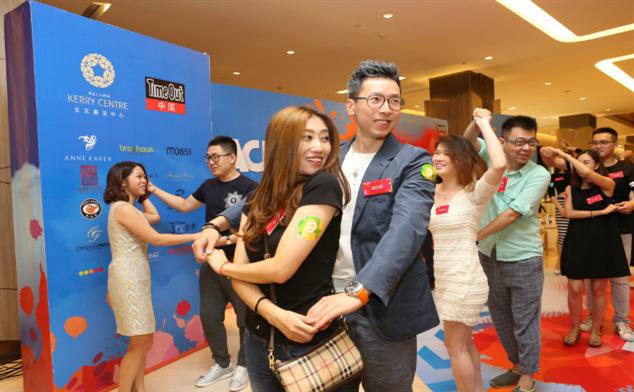 On August 6, Beijing Kerry Centre and Time Out Beijing jointly held "Race to Love", a grand dating event, to celebrate Chinese Valentine's Day. It turned out to be a success for those who were seeking a romantic relationship in the dog days of summer.
The event kick-started at 3pm sharp. Fifteen bachelors and 15 bachelorettes were randomly matched up with postcards and the pairs soon started ice-breaking. In order to help them to find out more about each other, the event was divided to four different rounds, including 'Love at First Sight', 'Your Destiny', 'You Are My Eyes' and 'Running For Love. Plus, all the guests had a chance to win prizes sponsored by various boutiques in Kerry Centre Mall.
'Race to Love' coincided with the Rio Summer Olympics commencing on the fifth. Obviously, a Rio-themed event would not be complete without Brazilian Samba dance. Featuring its distinctive rhythm, the performance was highlighted by the professional Sambistas, who undoubtedly brought the atmosphere to a dynamic climax. The next few rounds included answering questions, decorating cakes, and rope jumping, all for one clue to win the final race.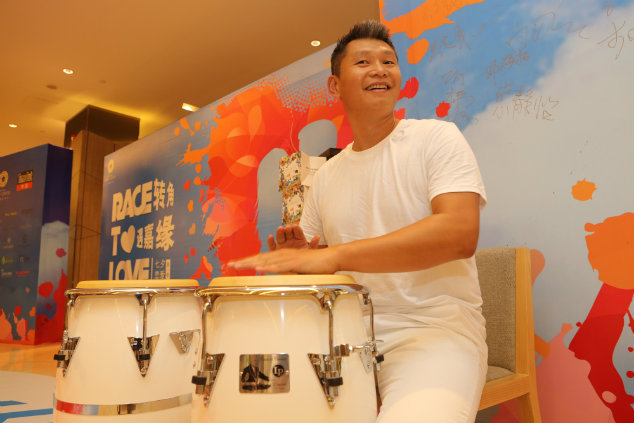 After the games, it was time for a refill. All the guests enjoyed a romantic dinner at Tak Yong, and hopefully some intimate time with their dates. At the end of the day, we cannot promise that they left with a life partner, but at least they went home with some decent food in their stomach.
When asked, one of the 30 guests, Miss Li said, 'I am very busy at work and hardly have a private life. I'm grateful that Beijing Kerry Centre has planned such a romance event for us, and it definitely made my day.' Mr Liu smiled, 'I'm glad to have partaken in this event. I had fun playing the games, and I think they brought me one step closer to finding the right one.'
After the event, Ms Wang Shan from Beijing Kerry Centre commented, 'It was a trial-and-error for us too, but everything turned out great. I hope at least some of them have found love at Beijing Kerry Centre. And we will for sure be planning fun events in the future, so please expect more from us.'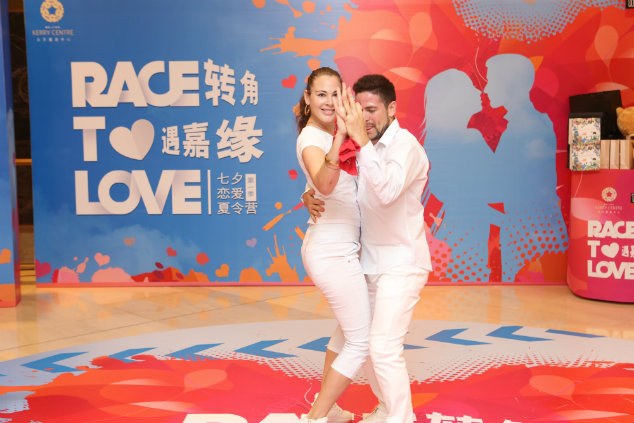 Mr Owen Peng, the General Manager of Time Out Beijing agreed, 'Time Out Beijing is always dedicated to providing its readers excitement and happiness. We are pleased to have partnered with Beijing Kerry Centre on Chinese Valentine Day. Hopefully, this event offers all the guests an opportunity to enjoy some personal time in between work.'
This Chinese Valentine's Day was surrounded by lots of love. Race to Love created a chance for the bachelors and bachelorettes to interact intimately. Moreover, the event would not have been successful without the support of Anne Karen, Browhaus, M0851, Pilot Flora, Anna Rosa, Tongqinghao, Belencre, Element Fresh, Guppy House, Nail Plus, Brunns Bazaar, Original Fresh, Zealong Organic Tea, Salon dePark and Le Cake. For more wonderful events, stay tuned with Beijing Kerry Centre.