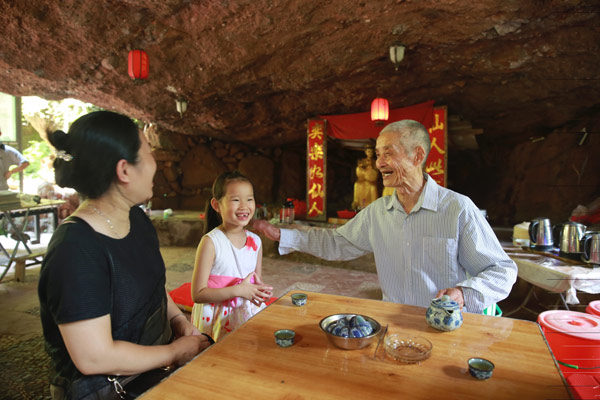 Zhou Wenrong serves tea to visitors. [Photo by Feng Yongbin/China Daily]
It's a blisteringly hot 36 degrees, and the harsh summer sun is at its peak.
A fact not lost on dozens of Chinese tourists hiking in the beautiful - yet challenging - 42-square-km Hanxianyan mountain region.
Their destination: the quaint Xian Ren Yi Le scenic spot - just one of more than 100 attractions in Huichang county's tourist hub, in south-east China's Jiangxi province.
After ascending steep and countless rocky and wooden steps, the group enters what locals describe as a series of caves - created not by a hole in the mountain, but by two mountainsides colliding overhead.
The winding trail leads them past ancient Chinese scribblings engraved in the rock face, to another path ... for lack of a better word.
One-by-one and on hands and knees, the tourists crawl through a tiny, jagged opening.
Emerging from the brief obstacle course and dripping in sweat, some breathe a sigh of relief.
Ahead of them, past a relieving downward slope, is a clearing where tables, chairs and tea - albeit hot - await their arrival.
So too does 82-year-old local peasant Zhou Wenrong, the man responsible for this rest stop.
For 23-years, the father of four has regularly trekked the half-hour journey it takes to get here from his home, simply to greet visitors with free cups of tea.
"They are very happy," Zhou told China Daily.
"The guests thank me for the work I do for them."