E-shopping gets a rural foothold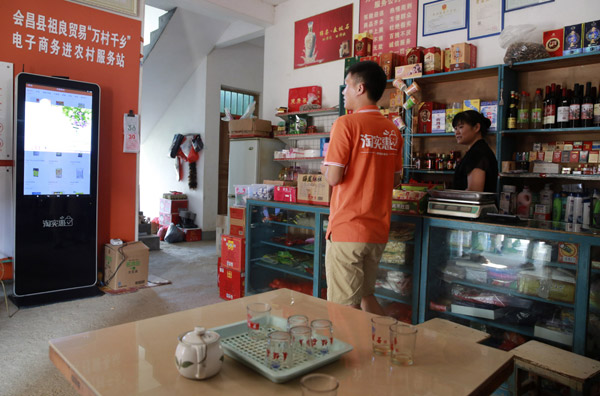 A touch screen for placing online orders was installed at a store in Daxiba, Jiangxi province. Feng Yongbin / China Daily
Editor's Note:
After visiting Huichang, a county in East China's Jiangxi province, in April, China Daily made another trip in late July to discover more about the efforts the Huichang government has made to not only develop the county's economy, but also to improve its governance and cultural atmosphere.
Equipping her grocery store with an electronic touch screen for placing online orders was a good business decision for owner Hong Qinglan, a resident of Daxiba, Huichang county, Jiangxi province.
The screen, which looks like a giant smartphone standing in the store, helps shoppers browse through various goods offered by companies both locally and all around China.
Customers add the items they want to an online shopping cart, and then give the money to Hong, who places the order from her online account. The goods are then delivered to her store and customers can pick them up.
The screens are provided by an e-commerce company, with the goal of bringing more rural residents into the world of online shopping at a time when the business model has swept urban China but has yet to expand dramatically in rural areas. Many rural residents don't know how to buy things online, and delivery services seldom reach the villages where they live.
Zhang Zuliang, manager of the Huichang branch of the company, said about 90 percent of local communities have the screens, and his branch has 12 trucks that make daily deliveries.
Hong, the store owner, said the introduction of e-shopping has benefited her business.
"Before this, I couldn't sell things such as clothes and powdered milk, as my business license doesn't cover these items," she said. "But now I can offer these things through this screen."
Yang Yunhua, a 37-year-old resident who had seldom shopped online before, said he has spent several thousand yuan online in Hong's store.
"It will cost you several yuan and some time if you take a bus to the downtown area to shop and come back. But now I only have to take a short walk to this store to choose on the screen what I want to buy," he said.
The company that developed the model is one of three e-commerce platforms whose delivery service reaches villages in Huichang county, said Xu Binfeng, deputy director of the county's e-commerce development office.
The companies are working to break through "the last kilometer" before goods arrive at the homes of rural residents. To date, the relatively small number of shipments and less developed transport infrastructure have dampened the development of delivery services to China's rural areas. But they're betting that will change with greater access to online shopping.
Online encouragement
Along with bringing in companies that make online shopping more accessible, Huichang county has come up with a series of plans and policies to develop local online businesses, including setting up an e-commerce incubator last year to foster growth.
Now 39 companies are operating in the center - among them an online food market set up by the county government in March last year. It sells 32 foods made by local companies, including dried tofu and rice noodles.
According to the data provided by Xu, the county official, the market has been visited more than 1.2 million times, and its revenue has reached 6.14 million yuan.
Xu said having the companies together in a single incubator location "helps nurture an atmosphere friendly to e-commerce".
Also helping to nurture the atmosphere are various free training programs offered by the center. This year it has presented 14 online business training courses for 738 people, of whom 125 are living in poverty.
Each course lasts seven days, with seven hours of training each day.
What's more, to encourage people to improve their financial condition by opening online stores, the county government approved a policy that provides a 5,000-yuan ($752) subsidy to young people living in poverty if their online stores have been operating for at least six months and their sales have reached 50,000 yuan.
Lan Shiyong is among those who have received the subsidy.
The 26-year-old opened two online stores selling food and leathercrafts locally after receiving a month of training at the e-commerce incubation center in November.
Lan said he learned about web page design and the operation of online stores during the training - which he said "indeed helped a lot".
Lan, whose family is poor, said he now owns three online stores that make a profit of more than 3,000 yuan a month, and he has free use of office space at the incubator center.
"My income is much better," he said, adding that he believes he can lift his family out of poverty through his online businesses.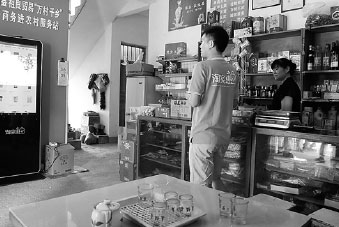 A touch screen for placing online orders was installed at a store in Daxiba, Jiangxi province. Feng Yongbin / China Daily
(China Daily 08/15/2016 page9)