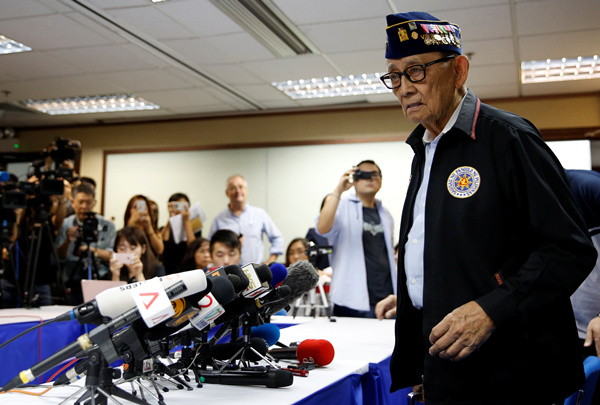 Former Philippine president Fidel Ramos speaks to journalists on Friday during a trip to Hong Kong. The five-day visit was aimed at helping rekindle ties with China, which have been soured by a maritime dispute in the South China Sea. [Photo/Agencies]
Former Philippine president, two Chinese open door for dialogue on South China Sea
Former Philippine president Fidel Ramos said on Friday that he and his Chinese "old friends" looked forward to starting formal discussions, after bilateral ties were jeopardized by an arbitration case over the South China Sea dispute.
Ramos met in Hong Kong with Fu Ying, foreign affairs chief of China's top legislature, and Wu Shicun, president of China's National Institute of South China Seas Studies, a think tank, according to a statement released after the talks.
The statement, signed by Ramos, Fu and Wu, described the meeting as one between "old friends" and said it had taken place "in a friendly atmosphere".
"The informal discussions focused on the need to engage in further talks to build trust and confidence to reduce tensions to pave the way for overall cooperation for the benefit of both their peoples and the region," the statement said.
The China-Philippines relationship was hurt by an arbitration case unilaterally initiated by Philippine President Rodrigo Duterte's predecessor, Benigno Aquino III.
Manila wants formal discussions with Beijing "at the appropriate time" to explore pathways to peace and cooperation, the statement added.
Speaking near the end of a trip that he earlier described as "ice-breaking", Ramos told reporters in Hong Kong that the three had not discussed territorial disputes in the South China Sea, but had talked about fishing rights.
"It's not really a breakthrough, in a sense that there is no ice here in Hong Kong to break, but the fish we eat ... are cooked in delicious recipes," said Ramos, who also had earlier referred to his visit as a fishing expedition.
Ramos said he hoped that a second round of discussions would take place soon, adding that the venue for further talks had not been decided yet.
Foreign Ministry spokeswoman Hua Chunying, commenting on Ramos' visit, said on Friday that Beijing hopes such communications could "help restore China-Philippines dialogue and improve bilateral relations".
On Wednesday, Hua also said in a statement that "China sticks to an open attitude toward all means of contact between China and the Philippines, and welcomes Mr Ramos to China".
Ramos, 88, started a five-day trip to Hong Kong on Monday. Bilateral relations were good when he was president from 1992 to 1998.
Li Hak-yin, a lecturer at the Department of Government and Public Administration of The Chinese University of Hong Kong, said this is a particularly critical moment for China and the Philippines as they approach negotiations on the South China Sea disputes.
Ramos was in Hong Kong to send a message to the Chinese government of his country's willingness to start negotiations, Li said.
Li Guoqiang, deputy head of the Chinese Academy of Social Sciences' Institute of Chinese Borderland Studies, said that China would like to see positive signals sent by the new Philippine government.
"Through the visit of Ramos, the Philippines is expected to hear China's voice and understand Beijing's concerns over South China Sea issues, to improve bilateral ties," he said.
Contact the writers at anbaijie@chinadaily.com.cn