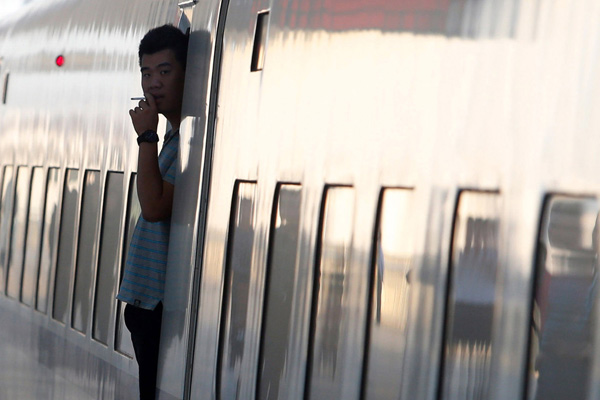 A passenger smokes before a high-speed train leaves the station in Hangzhou, Zhejiang province, Feb 25, 2014. [Photo/IC]
China Railway Corporation, the nation's railway operator, on Monday issued new rules to further tighten up the smoking ban on trains, saying that any passengers who are caught twice violating the ban will be forbidden to purchase any high-speed train tickets across China.
If a passenger smokes on a high-speed train, he or she will be fined and will have to promise not to violate the rules again, according to the new regulations.
If there is a second offence by the passenger, railway authorities can prohibit him or her from buying high-speed train tickets in the future.
The new rule aims to build a credit system in the railway system, said an insider.
Smoking can trigger smoke alarms on a high-speed train, forcing the train to slow down or even stop. So it was listed as one of the dangerous behaviors on a high-speed train in 2014. A violator of the no-smoking rule may be fined up to 2,000 yuan ($300).
Media reports about high-speed trains being forced to brake after passengers smoked on the vehicles have made headlines in recent years, showing a lack of safety awareness among passengers.
According to Beijing News, 20 such violations in which passengers smoked in the carriages or restrooms of a high-speed train were reported in less than a month in the railway section of Chengdu, Southwest China's Sichuan province, in January 2015.
The Beijing railway authority also issued its first ticket in 2014, when a passenger smoking on a high-speed train from Beijing to Tianjin was fined 1,000 yuan.