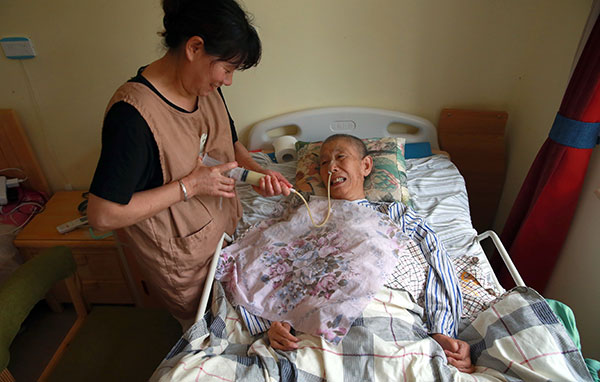 A caregiver helps feed Wang Lingfang, a bedridden 68-year-old patient, via a feeding tube at Puleyuan Nursing Home in Beijing.[Zou Hong/China Daily]
As family sizes shrink and China's population ages, the country will have to expend more resources and money to provide elderly citizens with everyday assistance. Shan Juan reports.
Editor's note: This is the first in a series of reports China Daily will publish looking at the lives of elderly people, the problems they face and ongoing efforts to improve their standards of living.
When China introduced the one-child family planning policy more than 35 years ago, elderly people, who traditionally relied on their children for care, were told to look to the State to provide support.
The policy was intended to reduce family sizes and people's reliance on their children, so there would no longer be any point in having a large family, especially many sons. The story didn't unfold as expected though, especially for the large number of disabled elderly people and their struggling families.
Du Ping, a resident of the Jianye district of Nanjing, capital of East China's Jiangsu province, has become increasingly frustrated after many failed attempts to hire a long-term qualified care worker for his 73-year-old father.
The elderly man was diagnosed with dementia in 2014 and is also paralyzed and incontinent, so he is dependent on other people.
"We've hired more than 10 caregivers since then. None of them lasted long, despite the above-average pay," Du said. "Many refused when they discovered their patient was a disabled senior."
Du resumed his search two weeks ago, when the most-recent caregiver quit, even though her monthly salary was 5,000 yuan ($750), almost twice the average wage of 3,000 yuan.
"It's a considerable sum, almost half of our (he and his wife) combined income," he said. "It would cost even more if we placed my father in a nursing home."