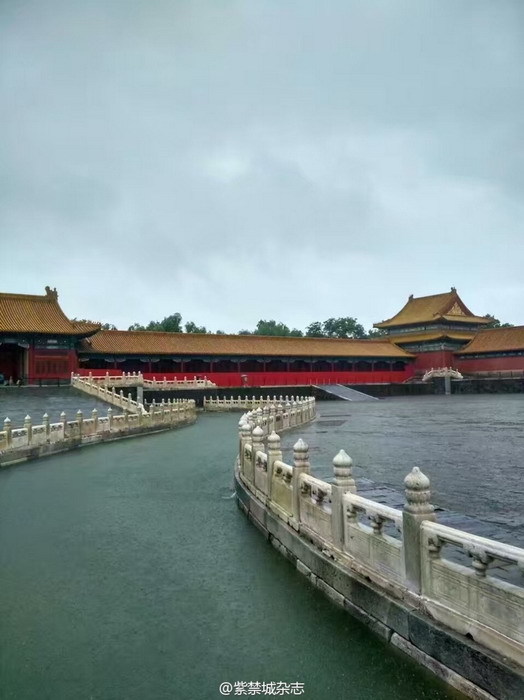 Floods can be drained off in 20 minutes thanks to the sound drainage system. [Photo from Sina Weibo]
Beijing was hit with severe rainstorms on July 20 with many roads becoming waterlogged. The 600-year-old Palace Museum, or Forbidden City, however, remained free of flooding, largely due to its sound, ancient drainage system, bjnews.com.cn reported on Friday.
More than 30,000 tourists visited the Forbidden City that day despite of the heavy rain, according to a staff member of the Forbidden City.
Built during the Ming dynasty, the Forbidden City was well maintained over the past few centuries. According to an insider at the Forbidden City, floods can be drained off in 20 minutes thanks to the sound drainage system of the complex.
Three types of drainage systems, the buildings, surface runoff, and under drains make up the complex system of the site, according to an ancient architecture expert of the Palace Museum. "Rain falls on the surface of the buildings and can further drop onto the ground along the glazed roof tiles," said the expert.
The nearly 2-meter altitude difference between the 46.05 meter high north gate (the Gate of Divine Might) and the 44.28 meter high south gate (the Meridian Gate) of the Palace Museum created favorable conditions for natural drainage.
The ground of the Forbidden City follows the sloping terrain of Beijing, with higher elevations in the northwest and lower elevations in the southeast, which enables the smooth drainage of water. The gardens in the palace are also higher in the middle and lower on both sides to facilitate water movement.
Take the three front halls as an example: the Hall of Supreme Harmony, the Hall of Central Harmony and the Hall of Preserving Harmony are built on three steps. The drainage holes at the base of the steps avert the steps from flooding.
Every garden and courtyard has open and blind drainage pipes, which make the Forbidden City floodproof.
Artificial drainage systems, including ditches, branches, culverts, and drain holes complete the whole drainage network, added the expert.
Even the drainage system is intricately carved-with water flowing out the mouths of the dragons to disperse excess water. If the ancient system is damaged, it is quickly repaired by staff, the expert added. "But the rebuilt areas only takes up less than 10 percent of the whole system." Drainage pipes lead to the Inner Golden River outside of the city. Even after hundreds of years, the drainage system still functions well.
The ancient drainage system also works together with the modern system to regulate the water level of the Inner Golden River, added the expert, under cooperation between the Palace Museum and the Beijing Water Authority, according to the report.