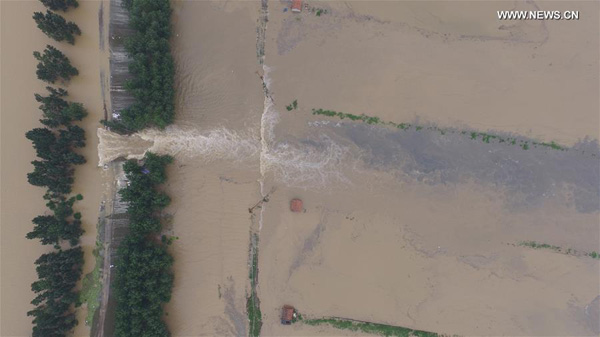 The breach occurred Thursday and kept widening. Before the dike breach, the local residents were relocated over safety concerns. Water in Hanbei River has reached its warning level due to recent heavy rain. [Photo/Xinhua]
WUHAN -- Another breached dike was found on a subsidiary of Hanjiang River in Central China's Hubei province, one day after workers completed repair work on the banks of the Kaotian River in the province.
A water torrent some 30 meters wide was seen in Hanbei River at 9 am Thursday, inundating a large area of farmland.
More than 34,000 residents had been evacuated earlier.
On Wednesday, workers finished a three-day repair project on a 81-meter wide breach on dike of Kaotian River. Some 50,000 cubic meters of stone was used to fill the breach.
The breach resulted in the flooding of seven villages, 1,000 hectares of farmland, and two fishery ponds, while threatening safe passage across several highways and railways.
The rain-battered province is prone to summer flooding.