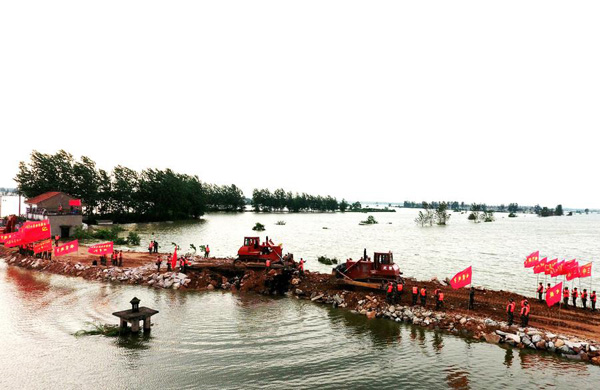 Rescuers complete the repair work of a breached dike in Central China's Hubei province on July 20, 2016. [Photo/Xinhua]
WUHAN -- Repairs were completed Wednesday morning on a dike, three days after it breached in Central China's Hubei province.
The 80-meter long breach occurred in Kaotian River in Huangmei County on Sunday morning, forcing 15,836 residents to be evacuated. The river water inundated seven villages, 1,000 hectares of farmland, and two fishery ponds, while threatening the safe passage across several highways and railways.
The police's hydropower engineering troop dispatched 678 soldiers and 210 sets of equipment, which worked round-the-clock to close the breach.
The troop and the county government sent workers to five quarries and three stone material transfer stations to distribute and allocate 50,000 cubic meters of stone to fill the breach.
Further work will be done to consolidate the dike and prevent infiltration, according to the troop.