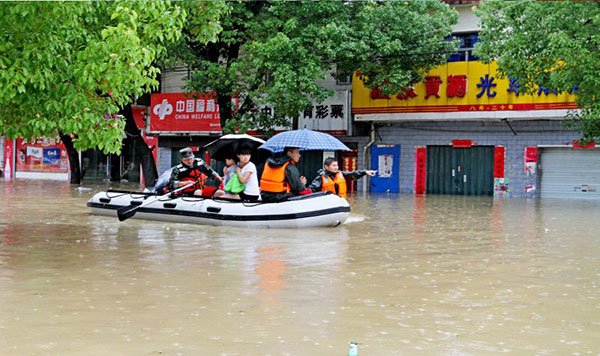 Rescuers evacuate a woman and her child in Chaohu city, East China's Anhui province on July 2, 2016. [Photo by Li Tinghe and Ma Fengcheng/chinadaily.com.cn]
BEIJING - Heavy rain has left 14 people dead and 8 others missing in south China since Thursday, the State Flood Control and Drought Relief Headquarters said on Sunday.
Storms have hit most of southern China since Thursday, pushing water levels in rivers to dangerous levels and swelling many reservoirs.
Some 9,000 houses collapsed and 710,000 hectares of crops have been damaged. Combined losses have been estimated at around 9.1 billion yuan ($1.37 billion).
Two rounds of rainstorms are forecast to hit southern regions over the next ten days. Nepartak, the first typhoon of the year, is expected to bring gales and downpours to eastern coastal areas next week.
The country's weather authority suggested people in southern areas reduce outdoor activities on rainy days and take precautions against possible floods and landslides.