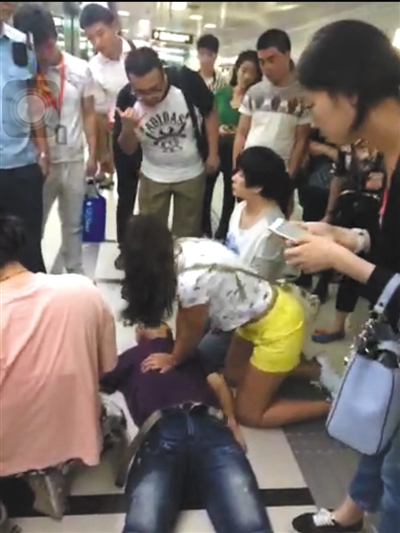 A foreign woman conducts external chest compression for Jin Bo at Hujialou underground station in Beijing on Wednesday. [Photo from web]
The death of a famous media figure in Beijing's metro system has exposed its lack of facilities and provision for emergency treatments, Beijing News reported.
Jin Bo, the deputy editor-in-chief of China's leading online forum Tianya, fell in a faint at Hujialou underground station on his way home in Beijing at around 7:30 pm on June 29.
Three female passengers conducted cardiopulmonary resuscitation, or CPR, and artificial respiration for Jin Bo. At the same time, subway employees made the emergency calls and dispersed the crowds.
But the employees failed to provide Automated External Defibrillator (AED), a commonly equipped emergency facility in public areas of developed countries, which stops the arrhythmia, allowing the heart to reestablish an effective rhythm.
Despite about half an hour of emergency treatment, he was declared dead from a sudden heart attack after being sent to a hospital one kilometer away by an ambulance at around 8 pm.
As the video shot by a witness circulated online, many internet users pointed out several factors that may have contributed to the tragedy.
An internet user, named "emergency nighthawk", who was identified on China's micro blog site Sina Weibo as an emergency doctor and first aid trainer at American Heart Association, argued that the emergency treatment was not professional, and that the subway employees did not offer first-aid and the underground station does not have AED.
He said it was preferable to conduct external chest compression rather than give artificial respiration. "Compression is the most important when it comes to cardiac arrest," he said.
He also believes that the most effective way is to defibrillate. Every minute's delay in defibrillation will reduce the chance of successful rescue by 7 to 10 percent. Unfortunately, Hujialou underground station was not equipped with AED for public use.
Hu Dayi, director of the Vasculocardiology Department, Peking University People's Hospital, agrees with "emergency nighthawk". He emphasized the importance of compression for cardiac resuscitation in public places, with frequency of no less than 100 times per minute and depth of 4 to 6 centimeters each compression.
Hu also said that AED is the fastest and most effective emergency facility. However, only the capital airport has such facilities, which started to open to trained unprofessional personnel recently and are not commonly available. High-speed rail stations and underground stations also do not have such facilities.