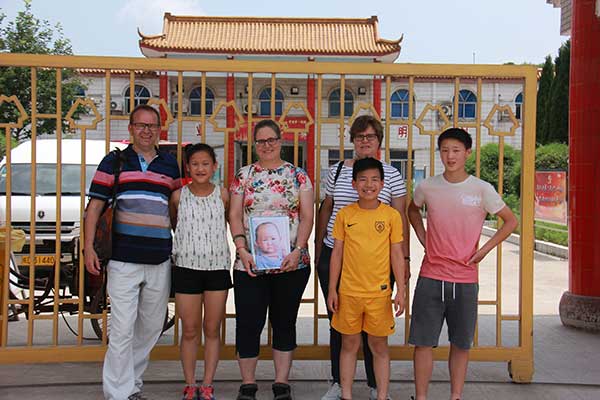 Erika Olzheim (third from left) adopted Callista, a Chinese girl (second from left). Her sister, Andrea De Baar (fourth from left) adopted two boys. They visited the orphanage in Anhui province, where Callista spent her first 18 months.[Zhu Lixin/China Daily]
'Knowing nothing about your past is difficult,' mother says
Callista Olzheim spent much of the past 14 years searching for her birthparents, and wondering why they abandoned her.
She was adopted by Dutch woman Erika Olzheim when she was 18 months old, and has just concluded another trip to China with her adopted family.
"Knowing nothing about your past is difficult", said Erika, 53, who brought Callista to Huainan to search for her birthparents.
"I want to know if they are still alive, why they abandoned me and if I have siblings", said Callista, whose younger brother is also adopted and originally from Taiwan.
It is believed that Callista was born in Huainan, Anhui province, on Dec 26, 2002, and was abandoned the next day in the city's railway station.
After being found, she was sent to the Huainan Children's Welfare Home and spent 18 months at the orphanage until Olzheim adopted her.
Though the girl has been living happily in Duiven, the Netherlands, for the past 12 years, a growing curiosity has driven her to seek out her natural parents.
On this year's trip, she was joined by Erika's twin sister Andrea De Baar, from Zevenaar, the Netherlands, and two of her sons who were adopted from Harbin, Heilongjiang province, and Yixing, Jiangsu province.
The sisters said all available records pointed to the children having been abandoned.
In the search for Callista's family, they first tried distributing fliers around the Huainan railway station and then turned to the local police, who took a blood sample from Callista to run a DNA test. It returned no positive results.
Before and after the Huainan trip, they had tried similar methods in Harbin and Yixing for 14-year-old Stefan De Baar and 12-year-old Vincent De Baar, with no luck.
Callista and Stefan said they were driven mostly by curiosity, not hatred of their birthparents.
"You don't know what kind of people they are and you can't really judge," said Stefan.
Erika has tried to explain to Callista about China's one-child policy, which was replaced last year by another allowing each couple to have two children.
"That might be a possible reason for their abandonment," Erika said.
"They might have been poor-otherwise, they may have taken good care of me," said Callista.
When Erika and her husband decided to adopt Callista, they already had three birth children. The De Baar family also has five children, including their two adopted sons.
Erika said they adopted the girl and her younger brother "because we want to have a big family and also give the abandoned kids a chance to live a better life by providing them with a good education and a happy family".
During their time in Huainan, the two families made a trip to Callista's old orphanage, which they had visited in 2008 and 2014.
This time they could only look in from the outside, as they were not aware of a new regulation, which stipulates that foreigners must first get approval from the provincial government's civil affairs department before visiting children's welfare homes.