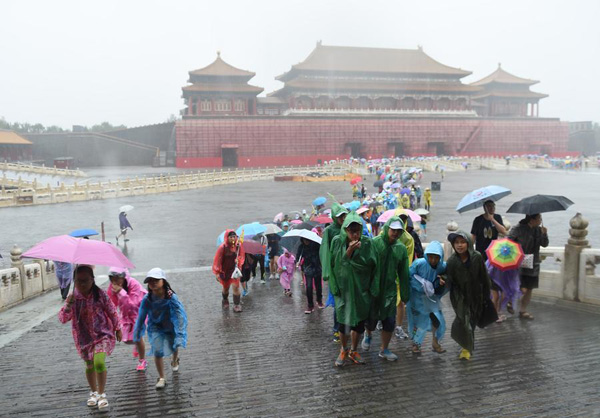 Tourists visit the Forbidden City in rain in Beijing on July 20, 2016. [Photo/Xinhua]
Beijing's Meteorological Center raised its yellow alert for heavy rain to orange on Wednesday, advising against nonessential travel and to be wary of landslides in mountainous regions.
The rain will last till late Wednesday night, and some parts of the city will also experience rainstorms, according to the center.
The center issued a blue alert on Tuesday. From 1 am on Tuesday to 8 am on Wednesday, the average precipitation across the city reached 47.3 millimeters, and the urban area recorded the precipitation of 51.0 millimeters, the center said.
Heavy rain has delayed some train service and around 200 flights have been postponed or suspended in Beijing.

Beijing water authorities issued the city's first yellow flood alert this year around noon on Wednesday, due to the heavy rains in the city and neighboring Hebei province, warning that water flows at the Northern Canal will reach 280 cubic meters per second at the Yangfangzha section in the city's eastern part.
The National Meteorological Center raised its storm alert from yellow to orange on Wednesday. China has a four-tier color-coded system for severe weather, with red being the most serious, followed by orange, yellow and blue.

Downpours will hit Hunan, Hubei, Henan, Anhui, Jiangsu, Shandong, Hebei, Liaoning, and Yunnan provinces, Beijing and Tianjin municipalities, and Guangxi Zhuang autonomous region from 8 am Wednesday to 8 am Thursday.

Hebei, a province around Beijing, issued a red alert for heavy rain on Wednesday, and Tianjin also issued an orange alert.