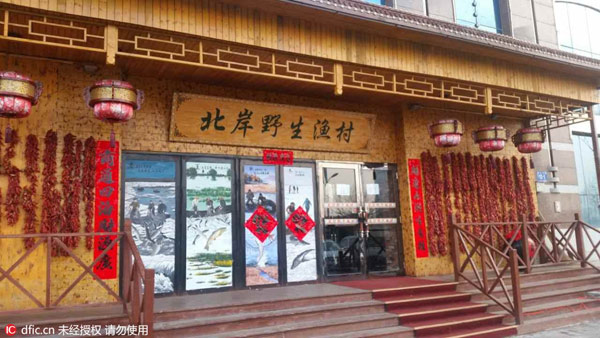 The restaurant punished for fraudulent behavior. [Photo/IC]
A restaurant in Harbin, Northeast China's Heilongjiang province, has been ordered to suspend business for fraudulent behavior a week after it allegedly charged customers exhorbitant prices for fish it sold.
On Feb 9, Chen Yan, a tourist from Changzhou, Jiangsu province, complained online about being overcharged for a dinner in a wild fish restaurant in Songbei District of Harbin.
Chen said he paid more than 10,000 yuan ($1,535) for three big fish he and his relatives consumed at the restaurant on the second day of Spring Festival. Worse, he alleged they were threatened by the restaurant staff when he questioned the bill.
Probe results published by the local government on Monday showed that the restaurant was not in the wrong, with the price of all its dishes clearly marked on the menu.
After further investigation, however, it was found that one type of the fish served, huso, is not the so-called wild species as the restaurant claimed, but a farmed fish, which is much cheaper than wild ones.
An administrative penalty will be imposed on the restaurant, but details of the punishment have not been revealed.
In a similar case, a man from Shanghai who spent more than 9,000 yuan eating the same type of fish at the restaurant received 1,900 yuan in compensation after it complained to price authorities.
Overpricing in a fraudulent manner at scenic spots has been a long-standing issue in China.
In October 2015, a tourist was asked to pay 1,520 yuan for a dish of shrimp in Qingdao, East China's Shandong province, because the quoted price of 38 yuan was for each shrimp, not for the entire dish.
Although Qingdao's price authorities later confirmed that the restaurant had been closed down and its owner fined 90,000 yuan, the scandal badly hurt the tourist city's image.