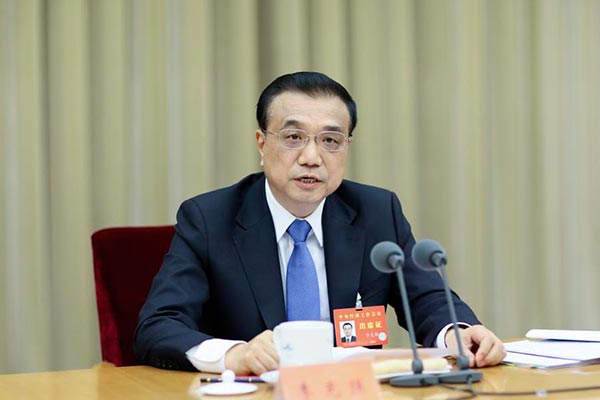 Chinese Premier Li Keqiang speaks at the Central Urban Work Conference in Beijing, Dec 22, 2015.[Photo/Xinhua]
Document shows determination to improve governance, says professor
The State Council, China's Cabinet, has called for more transparent governance by 2020 by making more government information public.
In a document issued on Wednesday, governments at all levels were asked to keep the public informed in five main aspects: policymaking policy implementation, managerial affairs, public services and government decisions.
"The document is a new national guideline for the disclosure of government affairs," said Yang Weidong, a law professor at the Chinese Academy of Governance.
Yang said the fourth plenary session of the 18th Communist Party of China Central Committee in October 2014 set the tone for the publication of information and listed what should be made public.
Underscoring that openness and transparency are the basic elements for good governance, the document called for regular information disclosure of government affairs, aiming to build a government featuring the rule of law, innovation, integrity and service orientation.
The document specified when governments should make information public and when to keep it confidential.
Government websites are important platforms to demonstrate administrative capacities and give the public access to official information, according to the document. Thus it's critical to push forward the cooperation of the Internet and governmental services, making websites better serve the public, it said.
Interest groups, members of the public, experts and the media should be invited to attend government policymaking meetings as nonvoting delegates, according to the guideline.
With the participation of people from different walks of life, and especially with the involvement of the media, the decision-making procedures are expected to be more transparent and better serve the interests of the public, Yang said.
The document requires making public three lists: government powers, government responsibilities and the negative list, which identifies sectors and businesses that are off-limits to foreign investment.
Meng Qingguo, a professor of governance at Tsinghua University, said the three lists reflect the central government's determination to improve governance by specifying government authority and obligations.
"It is a great step forward to building a transparent and clean government and in promoting the rule of law," he said.