With more people using the Internet as a source of information about medical problems and treatment, experts are warning that inaccurate content could pose a risk to anxious patients, as Shan Juan and Cao Yin report.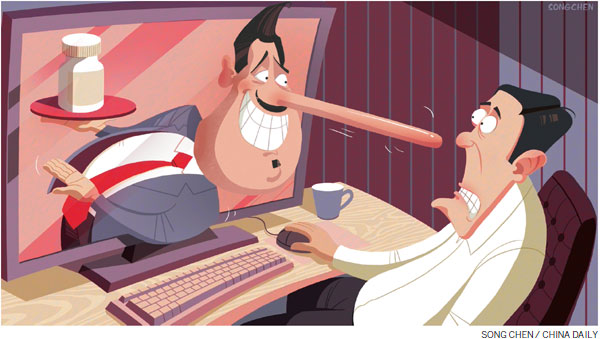 As more Chinese turn to the Internet in search of information related to health issues and medical care, concern is growing that people may receive incorrect or contradictory advice because of a lack of regulation related to online health information.
With 688 million netizens last year, China has the world's largest number of Internet users. A survey conducted by the health education center of the National Health and Family Planning Commission showed that the Web has become a major channel for people seeking health-related information.
Around 30 percent of those polled said they habitually searched the Internet for "self-diagnosis tips" before consulting a medical practitioner.
"Health content is easily available and abundant in cyberspace, but much of it is unprofessional and incorrect," Mao Qun'an, a commission spokesman, said.
That message was brought home recently when Baidu, one of China's most-popular online search engines, found itself at the center of a controversy related to medical information.
Investigation urged
Last month, 36 healthcare NGOs asked the Beijing authorities to conduct an investigation into Baidu over what they claimed were "inappropriate marketing practices".
The NGOs lodged a joint complaint with the Beijing Administration of Industry and Commerce, accusing the Nasdaq-listed online giant of violating the Advertisement Law by allowing misleading medical ads to be listed on its forums. They also repeated their calls for an investigation.
Moreover, some users of Baidu Tieba, an online community-based group discussion platform, have accused the company of selling details from its hemophilia forum to unregulated private hospitals, making it easier for them to reach potential clients.
One user called "Mayicai" said about 5,000 netizens use the Tieba online community to discuss and share effective treatments for hemophilia, and selling the online community to the hospitals could endanger patients' health.
In response, Baidu issued a statement in which it promised to cease the commercialization of forums that focus on the diagnosis and treatment of illnesses and could influence patients' recovery and well-being. Baidu also invited NGOs to run the forums.
Baidu Tieba, established in 2003, hosts more than 19 million online communities, of which 2,000 are commercial ventures, according to Lu Fubin, the head of Baidu Tieba.
"Of more than 10,000 online forums on medical issues, around 60 have been commercialized," Lu told Caijing, a financial magazine.
Yiyou Gongyi, one of the NGOs, claimed on its micro blog that Tieba's "inappropriate move" was just "the tip of the iceberg" of allegedly false online advertising.
It said Baidu's dominant position in China's online search market means the company can easily help enterprises with marketing campaigns, and ads for healthcare are one of the powerhouses of its search-engine business.
An industry report by JPMorgan Chase & Co, published in January, showed that advertising related to medical services accounted for 15 to 25 percent of Baidu's revenue of 49 billion yuan ($7.5 billion) in 2014. The lion's share of the revenue was generated by paid listing services that are widely used on online search engines.
Many private hospitals have long relied on paid listings to attract patients, according to a report in Beijing News in January.
In addition to Baidu, hospitals use a number of popular search engines, such as Sogou and Qihoo 360, the report said, adding that one large private hospital spends an average 80 mill-ion yuan on promotion annually, with paid listings accounting for a large part of the outlay.
Mao, of the National Health and Family Planning Commission, said the authorities are deeply concerned about the issue because of the large number of patients whose medical details are shared online.
"We will contact Baidu to arrange discussions to prevent such problems," he said.