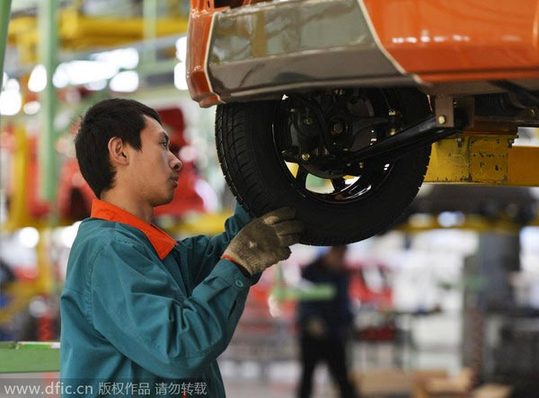 A Chinese worker assembles a new energy car on the assembly line at an auto plant in Zouping county, East China's Shandong province, Dec 16, 2014. [Photo / IC]
Be more responsive to the public and to international concerns, key members of the State Council are told
Premier Li Keqiang has called for key members of the State Council to be more responsive to the public and to international concerns about China's economic prospects.
Key ministers and department chiefs were urged to meet the media to explain how China will overcome the difficulties it faces.
The premier was reported by Chinese media on Tuesday as making the remarks during an executive meeting of the State Council on Sunday.
He told officials at the meeting to inform their domestic and international audiences that China is confident it has sufficient policy weapons to help the economy cope with increased challenges.
But he added, "We don't want to use our weapons when we're not fully prepared."
The economy can draw on the creativity of the nation's 1.3 billion people, Li said.
One example of China's resilience, he said, is the latest job data.
The government reported that the urban unemployment rate stood at 4.99 percent in January after it improved the survey method.
The premier said that as long as the job market remains stable, other economic fundamentals would be easy to manage.
His comments came after volatility in international equity markets during the Spring Festival holiday triggered alarm among economists and overseas observers.
But Li said the challenges can help the government to become more focused and more attentive in its work.
He said that the measures and policies taken to cover volatility in the stock and exchange markets were the "right call".
He added that such market-stabilizing measures, which were consistent with international practice, had defused certain "bombs" over a period of time and warded off systemic financial risk.
However, the authorities should also learn lessons from this experience, address internal management issues and take a timely and effective approach, Li said.
Xu Hongcai, director of the Economic Research Department at the China Center for International Economic Exchanges, believes the resilience of China's economic development lies in its economic transition.
"China is now undergoing its economic structural optimization, with consumption playing an increasingly larger role in the country's economic growth," he said.
According to the National Bureau of Statistics, consumption contributed 66.4 percent to GDP last year, a year-on-year increase of 15.4 percentage points.
"Meanwhile, the service industry is developing rapidly, which will provide more potential platforms for employment-an important index for a country's economic growth," Xu said. "Also, the potential for areas in central and western China has not been fully explored. All of these factors show there is better potential for China's economic development."