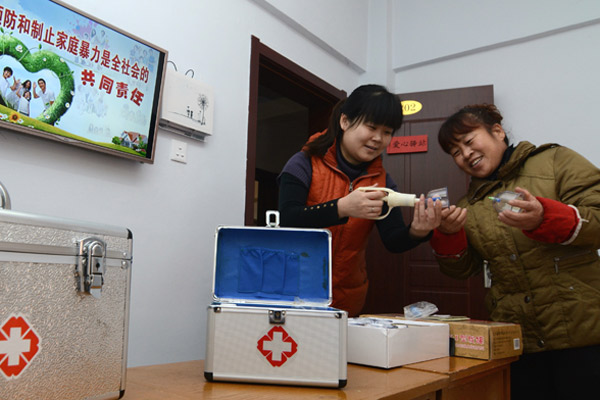 A domestic violence shelter in Jinzhou, Liaoning province, operates 24 hours a day.[Photo by Li Tiecheng/China Daily]
Center will offer a place to stay for up to 10 days, and connect people with agencies
A domestic violence shelter will go into operation next month in Chengdu, Sichuan province.
Children and adults who have nowhere to live in the aftermath of domestic violence can normally stay for up to 10 days in the shelter, which offers board and lodging.
They can also file an application if they want to extend their stay, according to the Chengdu Civil Affairs Bureau.
The shelter will ask government departments and social relief organizations for legal and medical aid, help to settle family disputes and offer employment assistance and psychological rehabilitation, if necessary.
It will use the facilities of the existing Chengdu Women's Rights Protection Center, such as bedrooms, psychological counseling rooms and an activities center.
Paintings of flowers, grass and trees hang on the bedroom walls and toy pandas are on the desks, aiming to create a family atmosphere, said Luo Li, an official with the bureau, which will launch the shelter with the city's women's federation and rescue stations.
Top priority will be given to children, who will be looked after by social workers and may be sent to live with host families.
"If adult men are threatened with domestic violence, they can seek help in the center, too," Luo said.
"Domestic violence consists of physical and emotional violence. Adult men may also suffer from it. But the overwhelming majority of the abused are women and children, so we will launch the shelter with the city's women's federation," she said.
The Chengdu shelter was established in response to an anti-family violence law to be implemented nationwide on March 1.
Similar shelters have been setup in several cities, including Dazhou in Sichuan province, Nanjing in Jiangsu province, and Zhengzhou in Henan province, but all of them have few people seeking help.
The Dazhou shelter was set up three years ago, but fewer than 10 people have sought help there. The Zhengzhou shelter is nine years old and fewer than 10 people have sought help, according to Beijing-based China Social News, a newspaper of the Ministry of Civil Affairs.
An investigation by the All-China Women's Federation found that domestic violence exists in 30 percent of Chinese families.
Psychological counselors attribute the low occupancy rate of anti-domestic violence shelters to the traditional mentality that domestic shame should not be made public.
Tan Chunxia, a counselor in Nanjing, said low income levels can also be a factor, since if the abused are economically dependent on their family they would rather quietly endure violence than seek help in a shelter, she said.