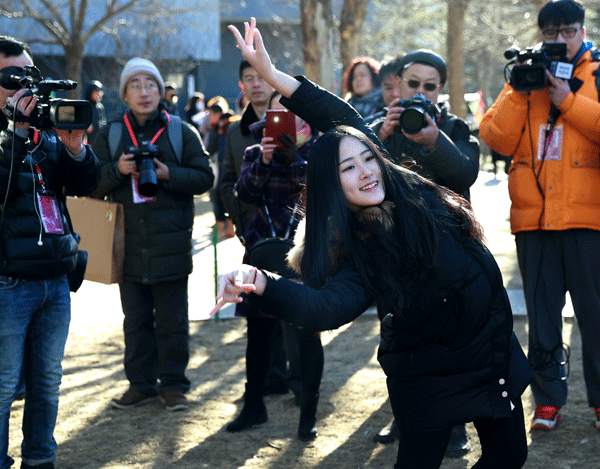 Hu Yuxin from East China's Jiangxi province dances at the Beijing Film Academy on Monday. It was the second time the 17-year-old sought to enroll in the institution. A second round of examinations for admission to major art colleges began on Monday. ZOU HONG/ CHINA DAILY
Will English be a must-have skill for China's entertainment stars in the future?
The answer is probably yes, as evident from the change in some of the country's top art colleges' annual admission examinations on Monday. The exams are seen as somewhat of a shortcut for young people with dreams of becoming stars.
The Beijing Film Academy, the Central Academy of Drama and Communication University of China – regarded as influential incubators for future showbiz talent – began second-round tests on Monday. The examinations will run through early March.
Reaching a new high, the Beijing Film Academy saw 30,400 applicants competing for 467 seats, a year-on-year increase of 23.4 percent.
Admission officers at the two other institutions told China Daily that their numbers were similar to those of last year.
While the Central Academy of Drama received 29,533 applicants to vie for 573 seats, Communication University of China got 27,299 to compete for 756 places.
The fiercest competition involves performance majors. Communication University of China received 4,297 such applications for 26 seats, or 165 applications per seat, while the figure for the Beijing Film Academy's acting applicants reached 170 per seat.
Although China's national college entrance exam, or gaokao, reportedly will not include English in the future, the Beijing Film Academy still highlights its expectation for students' foreign language scores.
"It's not against the policies, but a solution to meet the changing demands for talent education and the movie markets – both domestically and internationally – in the next five to 10 years," said Mu Deyuan, the academy's dean of studies.
Mu added that the college will require students to polish their English skills to be qualified for international cooperation projects.
xufan@chinadaily.com.cn